Dual Admission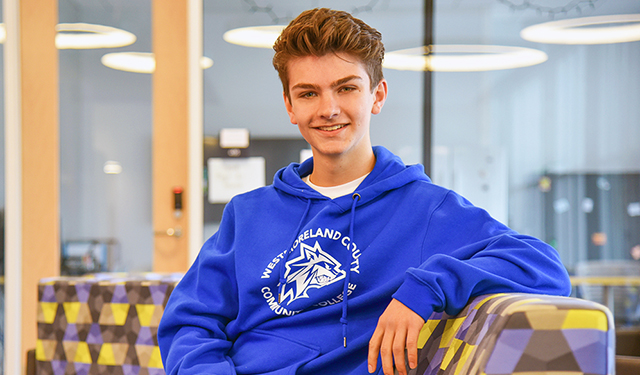 You may be planning to come to Westmoreland for your associate degree and then transfer for your bachelor's degree. Dual Admission is a great pathway to follow. If accepted into a Dual Admission program, you have a unique opportunity to continue as part of the Wolfpack until you complete your associate degree as well as getting to know your four-year transfer institution even better! Dual Admission eases transfer as after completing your associate degree, you simply enroll as a junior at one of the four-year colleges or universities listed below. There, you can pursue your bachelor's degree and enjoy all the benefits of junior status. Westmoreland is dedicated to helping you achieve academic success in the Dual Admissions program. And there is no cost to apply.
The Dual Admission combination is an excellent way to get an education that is financially responsible for today, tomorrow and for the future. If you think this is the right program for you, ask about applying during your visit or talk to your assigned advisor. We would be happy to discuss the program with you.
There are some simple steps to get started:
Select a program of study at Westmoreland that best fits your career goals. Review list of programs. Westmoreland has multiple agreements that may fit your Ambitious journey. Westmoreland does not have a Dual Admissions agreement for every program.

Review the list of schools for Dual Admission and select the one that best fits your program. Read through the dual admissions requirements of the college or university you selected. If you have questions, contact the Information Center at

infocenter@westmoreland.edu or 724-925-4000.

You will need to complete the required form for the program that best fits your plan. Please review each Dual Admission programs below and complete the appropriate form.
Participating Dual Admission colleges and universities include:
A student must meet the following requirements to apply for the dual admissions program:
Currently admitted and enrolled at WESTMORELAND.
Maintain a minimum GPA of 2.0.
Have no more than 30 earned credit hours upon dual admissions declaration.
Planning to pursue both an associate degree and bachelor's degree.
A student is not eligible for dual admissions if:
The student is already enrolled in another dual admissions program.
The student does not meet the above criteria.
The student is not in good standing with either INSTITUTION'S Student Code of Student Conduct.
WESTMORELAND shall ensure the student has completed their AA or AS degree from WESTMORELAND in the degree program indicated on the Dual Admissions application.
WESTMORELAND shall ensure the students must maintain a cumulative GPA of 2.0 and adhere to the TAOC approved or other agreed upon program of study.
Specific programs may require a higher GPA. The student is responsible for meeting the TAOC transfer GPA. If the student does not meet the minimum requirements of the TAOC major indicated on Dual Admissions application, then the student may complete their baccalaureate degree in a different program with the recognition that all transfer credits may not apply.
Early Childhood Education majors must have also taken and passed the Pre-service Academic Performance Assessment (PAPA) exam prior to admissions to the Early Childhood Special Education (ECSP) Program at the UNIVERSITY.
If you are interested in this program, please complete this form.
The dual admissions agreement with Robert Morris University is created to establish a program that promotes pathways for students to complete a bachelor's degree through seamless transfer from Westmoreland County Community College. The goals of the dual admissions agreement include:
To eliminate barriers for students in attaining their educational goals.

To improve student success and retention.

To provide a curriculum plan for students for seamless transition for earning an associate degree at Westmoreland to earning a Bachelor's degree at Robert Morris University.

The ability to offer dual enrolled courses exclusively for current students from Westmoreland at per credit rates equal to those established by Westmoreland.

The creation of community college student affinity groups that facilitate early participation in University activities (sports and other events) and degree specific affinity groups that would allow for early membership into program clubs and honorary societies.

If you are interested, please complete this form.
For more information on the program, you can also review the RMU Gateway website.
The dual admissions agreement with California University of Pennsylvania is created to establish a program that helps students maximize the number fo credits they can transfer. The program also offers a 20% tuition discount for Westmoreland graduates of selected associate degrees to advance their education with studies at California's campus or entirely online. The details of the dual admissions agreement/Alliance include:
A disount for graduates who have earned an Associate of Arts (AA), Associate of Science (AS), Applied Associate of Science (AAS) in Social Work, Associate of Fine Arts (AFA) or Applied Associate of Science (AAS) in Early Childhood Education.

An opportunity to complete their Cal U bachelor's degree in two years of full-time study.

A provision for dual admission that allows Westmoreland students to take advantage of additional engagement opportunities and benefits at Cal U, even before they complete their associate degree from Westmoreland.