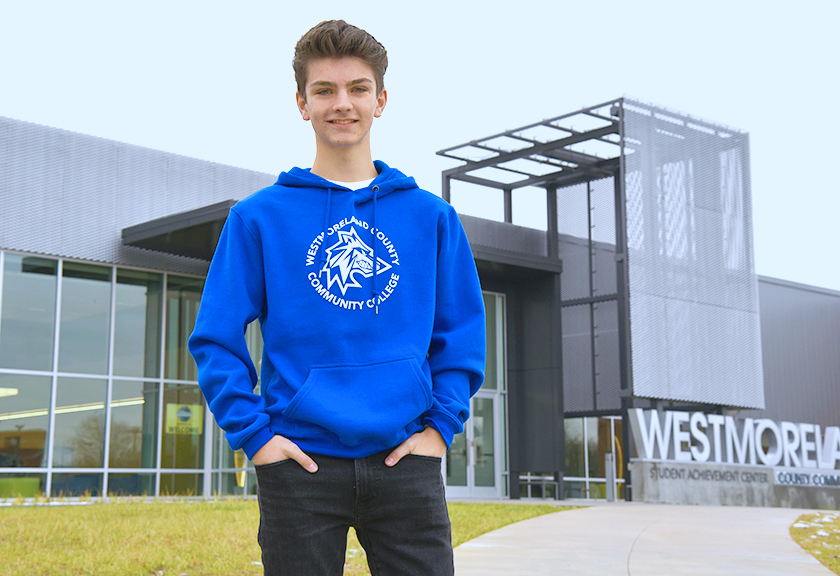 Student Spotlight: Nate Pangallo, Finance Major
January 23, 2020
Youngwood, Pa.
Nate Pangallo not only loves business, he lives it. The 18-year-old Franklin Regional graduate is in his second semester as a finance major at Westmoreland County Community College.
"I love to tell people how to spend their money and how to invest their money," Pangallo joked. The day he turned 18, he began trading stocks through his own brokerage account. "I do my own research," he said. Pangallo's stock portfolio includes Facebook and Tesla.
He is also always looking for business opportunities. In high school, Pangallo and a neighbor started a grass cutting and landscaping business that now serves more than 30 clients in Delmont. He has also detailed cars, and he makes money buying and reselling items on eBay.
His business accomplishments helped him earn a full scholarship to Westmoreland from the Murrysville-Export Rotary Club. Even before he received the award, he knew he wanted to attend Westmoreland to avoid the heavy college debt many of his friends were likely going to carry.
"They want a university, a 4-year school," Pangallo said. "I was set on this. It's all the same in the end and I love it here."
Another plus for Pangallo was that he earned 19 Westmoreland credits before he graduated from high school through the College in High School program.
"It lightened my workload," Pangallo said. He takes classes at both the Youngwood campus and Westmoreland-Murrysville. "I live two minutes away, it's very convenient."
What's next for Pangallo after Westmoreland? He may transfer to a 4-year institution to continue his studies. Of course, he is also interested in becoming a financial advisor and he may even get into real estate and property management/investment.
For now, he has some advice for high school students who are looking at colleges. "If you want a good education but not the debt burden, I highly recommend Westmoreland. Don't overlook it – take it seriously."