Become a Registered Nurse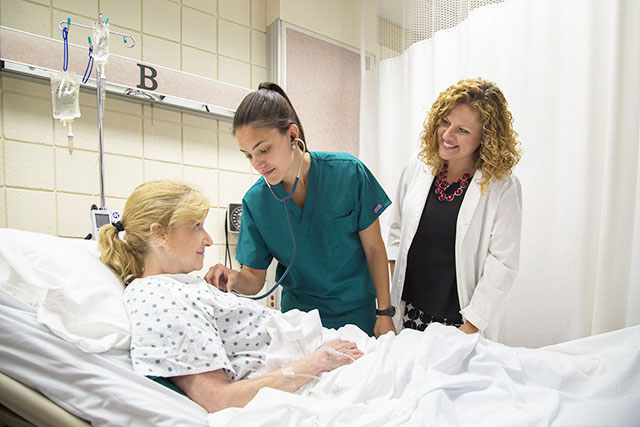 Registered nurses provide and coordinate patient care, educate patients and the public about various health conditions, and provide advice and emotional support to patients and their family members.
Nursing, AAS
Westmoreland's associate degree Nursing program provides the academic and clinical preparation to start a career in entry-level nursing positions. Upon completion of the associate degree program, graduates are eligible to sit for the National Council Licensure Examination for the RN (NCLEX-RN) leading to the licensure to practice nursing.
The associate degree Nursing program is offered at both the Youngwood campus and at Westmoreland - Indiana County. The Youngwood campus offers a full-time daylight program (fall start) and a part-time evening program (spring start). The Indiana County location offers the full-time daylight program. View Nursing, AAS in the College Catalog
Advanced Standing to AAS for LPNs
In addition, licensed practical nurses (LPNs) can continue to climb the career ladder by enrolling in the Nursing Advanced Standing to AAS for LPNs Program Option. This program option allows licensed practical nurses to apply for advanced placement into the second year of the associate degree Nursing Program if they meet specific criteria. View Advanced Standing for LPNs in the College Catalog
Career Opportunities
Registered nurses work in hospitals, physician's offices, clinics, home healthcare services, and nursing care facilities. Others work in correctional facilities or schools, or serve in the military.
Pathways to a BSN
Graduates of Westmoreland's Nursing program who want to earn a Bachelor of Science degree in Nursing are encouraged to do so! Westmoreland partners with several colleges and universities to maintain guided pathways for graduates to achieve a BSN. We have formal transfer agreements with the following institutions:
Bloomsburg University of Pa
California University of Pa
Carlow University
Chamberlain University
Chatham University
Clarion University
Clarion University
Mount Aloysius College
Pennsylvania State University - Fayette & New Kensington
Robert Morris University
Waynesburg University
Accreditation
The Westmoreland Associate Degree Nursing Program is approved by the Pennsylvania State Board of Nursing. Additionally, the Westmoreland program is accredited by the Accreditation Commission for Education in Nursing (ACEN). The ACEN is nationally recognized as a specialized accrediting agency for both postsecondary and higher degree programs in nursing education.
Basic Application Process - Health Professions
Complete and submit an Application for Admission to
the college
Download the Nursing, Nursing-Evening or Advanced Standing for LPNs Application Checklist and check the College Catalog for details on additional requirements
Complete and submit a Health Professions Programs Application
You will be notified via your MyWestmoreland email if you are eligible to take the National League for Nursing Pre-Admission Examination (NLN-PAX), which is the next step in the evaluation process. Study materials are optional and available for purchase.
Submit official transcript from all secondary schools attended, graduate equivalency degree (GED) programs and any other formal educational program beyond high school
Application Deadline: January 12 prior to fall start; May 15 prior to spring start
Acceptance Notification: Mid-March (fall); Mid-August (spring)