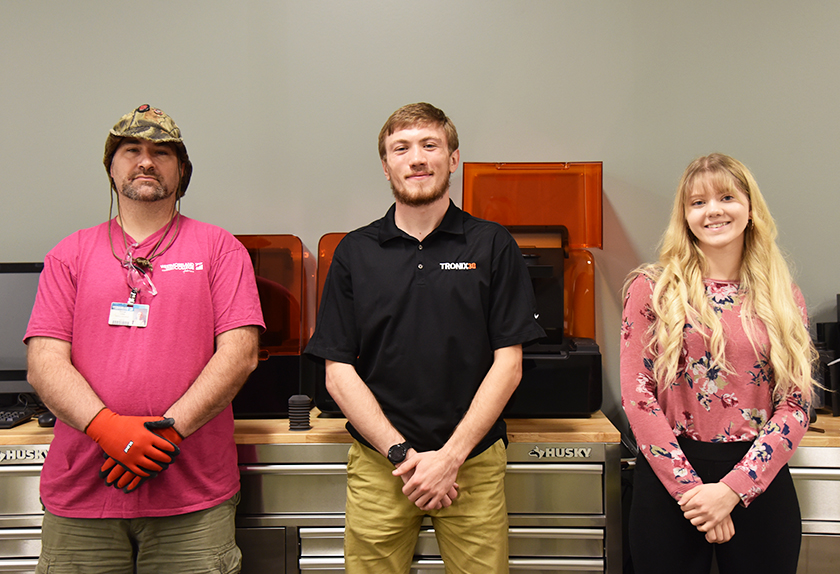 'Sky is the Limit' for Students in Westmoreland's New Additive Manufacturing Program
October 16, 2020
Youngwood, Pa.
Students in Westmoreland County Community College's Additive Manufacturing program, which launched in the fall 2020 semester, are excited about the future.
"You can do almost anything, anywhere," student Nick Gabrielli said.
"You can pretty much make anything," Gabrielli's classmate, Hannah Symons, said.
Additive manufacturing is the industrial production name for 3D printing, a computer-controlled process that creates three-dimensional objects by depositing materials, usually in layers.
"You're going to see the floodgates open up and they're going to be looking for people, and the first level people will be coming out of a program like this," said Doug Gengler, assistant professor of Manufacturing, Design and Fabrication. Gengler said more and more industries will be using the technology. The college launched the program to stay ahead of the demand.
"Car dealerships are going to look at getting these types of printers and having an operator who will then drop in the file and print on site. Your car wouldn't be there more than a couple hours and you would have the part in it. The airlines are already doing that," Gengler said. "Anywhere a machine could be placed to create an instant part will open up job opportunities."
In addition to teaching students how to work with the machines, Westmoreland's program prepares students to be designers and drafters.
"We're looking at companies sitting on 100 years worth of technical drawings that could be candidates for additive," Gengler said. "They're going to be looking for someone with engineering skills who can take that file and reproduce it."
Gabrielli started at Westmoreland in the Computer-Aided Drafting and Design (CADD) program before he switched his major to Additive Manufacturing.
"Just visualizing things in that 3rd dimension takes a special talent," Gabrielli said. "So being able to do that from the CADD program really helps." The Additive Manufacturing program includes three semesters of CADD courses.
"Learning about the advanced technologies and watching something go from an idea to a design to a finished part is always really interesting to me," Gabrielli said. He is currently working at TRONIX3D, greater Pittsburgh's first high-volume 3D/additive contract manufacturer and innovation center. The company's headquarters is located inside Westmoreland's Advanced Technology Center.
"Somebody who is creative, it gives you such a platform to use. There is so much you can do," student George Lang said about the Additive Manufacturing field.
"A field like this isn't limited to anything," Gabrielli said. "You can find a job and an interest in anything."
"The sky is the limit for them," Gengler said.