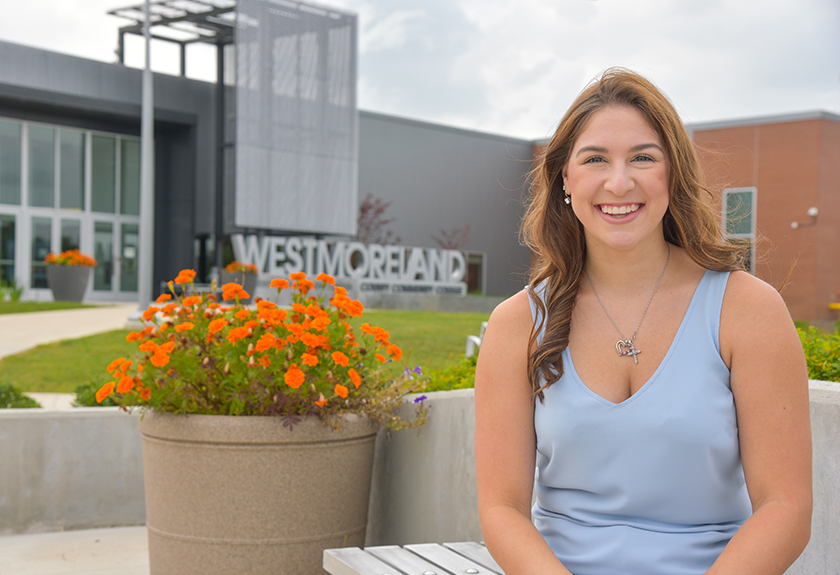 Westmoreland Student Overcomes Brain Injuries to Succeed, Help Others
October 9, 2020
Youngwood, Pa.
Everything is falling into place for 22-year-old Jayden Moffa. She is completing her last two semesters at Westmoreland County Community College. She will graduate with a degree in social work in May. She is the reigning Miss Southwestern Pennsylvania and she has a full-time job that she loves. However, Moffa has had to work harder than most for her accomplishments, because of something that happened to her six years ago.
"I just thought I was never going to do anything great in my life, I was never going to succeed in anything," she said.
Not Just a Minor Injury
In 2014, a soccer ball struck Moffa, then a sophomore at Greater Latrobe high School, in the chin. It seemed like a minor incident - a slight headache and a red mark were the only evidence of what happened. The school nurse gave her Tylenol and it was no big deal, Moffa thought. However, it would make her question everything she thought she knew about herself.
Before the soccer ball incident, Jayden Moffa had been an honors student. She was beginning to look at colleges and wanted to major in sports management. She enjoyed golfing. However, about four to five months afterward, she began to have headaches. Her grades were slipping and even a tutor couldn't help.
"I thought, 'Why can't I understand what I'm learning?' I hated going to school. I hated getting up in the morning."
Trips to a chiropractor and her pediatrician brought no relief. Then came blurred vision, and she could no longer play golf.
"I couldn't even see the ball when I was swinging at it."
The vision problems brought her to Willowbrook Eye Associates in Greensburg, where Moffa learned she had a learning disability called Ocular Motor Dysfunction. She began vision therapy. When doctors investigated what caused it, Jayden Moffa was diagnosed with a concussion – 14 months after the soccer ball struck her.
"Concussions are an invisible illness," Moffa said. "To my teachers, doctors and friends, I looked perfectly normal but on the inside I was struggling. I called myself stupid because I had no idea what was going on before I was diagnosed."
The relief she and her family felt after would not last long. During her junior year, Moffa hit her head and suffered a second concussion. She missed 80 days of school but somehow, she managed to graduate on time. Going away to college, though, no longer seemed to be an option. Neither did her dream of running a golf course.
"I didn't know what I wanted to do because everything I previously wanted to do was ripped away from me," she said.
An Uncertain Future
Moffa enrolled full-time at Westmoreland-Latrobe. She studied business, but still struggled academically. The full course load was too much and she failed most of her classes that first year. She didn't give up and returned in the fall of 2017, but wanted a new major.
With the help of Westmoreland TRIO Counselor Daisy Schropp, she chose social work and decided to attend part time.
TRIO is a student support services program that works closely with students to overcome academic or personal barriers by offering counseling, academic planning, financial planning, transfer planning, progress reports, cultural trips and more.
"TRIO wants to assist students in being successful by building a connection, providing support and resources and helping students overcome the challenges they may face," Schropp said. "Jayden and I have worked together to find the right major that would be a good fit with her current job, using the credits she already completed."
After a conversation with the Willowbrook staff last fall during a routine eye exam, Moffa underwent hands-on training and started working full-time as a vision therapist in April.
"It has been the most rewarding experience in my entire life," she said. She plans to continue in this new career after graduation, and her social work classes have been a big help as she works with concussion patients.
"I love going to work. I learn something new every day," Moffa said. "I work with people who are trying to build their life back, and it's awesome to help them do that."
Moffa made the Dean's List for the first time in the summer semester, something she once thought was impossible.
"I have worked so hard to be where I am now," she said. "It just felt like all of my hard work is being recognized. I can do this."
As for her recovery, the headaches and blurred vision are gone, but one side effect remains: memory loss. She has relied on keeping a daily planner to help her through college – she even uses it to remind herself to go to class.
"There's a huge chunk of my life that I don't remember. I look at pictures from my childhood and I don't remember," Moffa said.
Moffa's Mission
Jayden Moffa began competing in pageants right around the time she suffered her first concussion, and has won several local titles in addition to placing in the top 10 in the Miss Pennsylvania pageant three times.
She was crowned Miss Southwestern Pennsylvania last November and will compete for the title of Miss Pennsylvania once again next summer (there were no pageants this year due to the pandemic).
"I think about how many doors it's opened for me to be able to reach new people and to meet people," she said.
With the crown and sash comes scholarship money, which has covered the costs of several semesters at Westmoreland (part-time). Pageants have also given Moffa access to people who can help her spread concussion awareness.
"I've spoken with state senators and worked with county commissioners and doctors," she said. "It's opened many doors and given me so many opportunities, not just scholarship opportunities."
Pageants helped Moffa figure out who she wanted to be after her concussions, and what she wanted to do to help others like her. She worked with Brain Steps, where she did a speaking tour at schools and colleges to spread concussion awareness.
"There are students who are struggling and they don't know they're struggling," she said.
She is also the driving force behind a concussion support group, which meets monthly at Excela Square in Latrobe.
"There's people who've lost their jobs and their families left them because they don't understand the issues and symptoms," Moffa said.
The 90-minute sessions offer support and information for concussion patients and their caregivers – something Moffa and her family could have used. Her past struggles motivate her to work harder and to do more.
"I never thought I would be where I am today," she said.