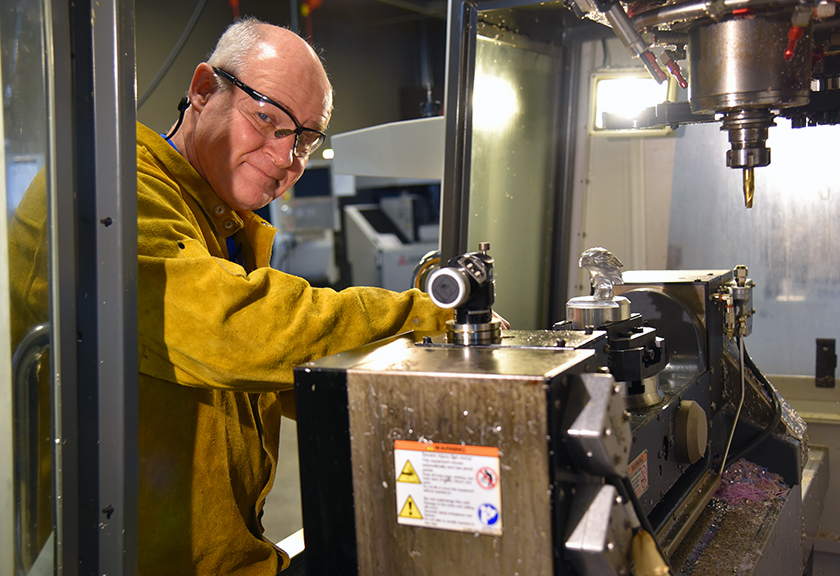 Never Stop Learning: Retiree Pursues Two Degrees at Westmoreland
December 16, 2019
Youngwood, Pa.
Dane Shultz is proof that learning is a lifelong process. The 63-year-old retired music teacher is pursuing degrees in welding and machining at Westmoreland County Community College.
"I wanted to study working with metal for years," Shultz said.
Shortly after he retired in 2016, the former Connellsville Area Senior High School band director began researching non-credit welding courses. He discovered the college's Continuing Education division and enrolled in an introductory welding course.
"I decided to go for credit almost instantly," Shultz said. After he began credit classes in welding, an instructor suggested the welding students also train in the machine shop. Shultz took the opportunity to study both manual and computer numerical control (CNC) machining. He decided to pursue an additional degree in machining.
"I'm busier now, being retired," Shultz joked. In addition to attending courses at Westmoreland, he is an adjunct faculty member at California University of Pennsylvania and he teaches private music lessons. Shultz also continues to play the clarinet, saxophone and flute professionally and he continues to assist with the Connellsville band.
"We're happiest when we're busiest," he said. Shultz is not planning to start a new career with his new skills. Instead, he is pursuing the degrees for enjoyment.
"Age is not a deterrent," Shultz said. "You can never stop learning. I started at age 61. Life is a learning process throughout."
Some of his younger peers are surprised to see Shultz in class.
"We meet each other with common ground," he said. "You see them working, some working full time and coming here and picking up classes, and I gotta give them credit for that."
Shultz hopes to use his welding and machining training to assist him with making repairs and he may even dabble in creating pieces of art.
"You don't know what you can do until you try. The more you learn, the more you can do in life."