Learn to Troubleshoot and Repair Computer Hardware and Software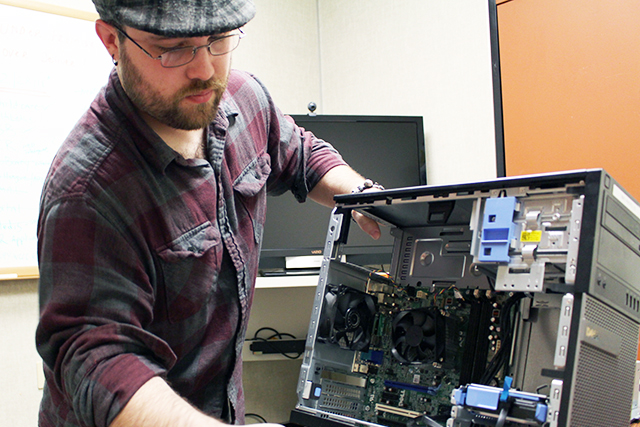 Why choose Computer Technical Support as a career?
Students interested in computer technical support are those who are meticulous in their work habits and are very patient. They are strong problem solvers and critical thinkers. While thinking outside the box can be valuable, following instructions and analyzing problems are strong assets.
The most important traits for students in the technical support option are the ability to work both as an effective team member and be able to work independently with little supervision. They must be excellent communicators both verbally and in writing.
The technical support program provides students with a strong foundation in computer applications, including operating systems, PC hardware, productivity applications and networking.
Emphasis will be placed on the installation, configuration, operation, maintenance and troubleshooting of computer hardware systems, operating systems, websites and application software.
What will I learn?
Computer Technology, AAS - Technical Support Option
The Technical Support option at Westmoreland prepares students to understand the concepts of computer design and operation install, configure, and troubleshoot popular computer applications.
The option teaches students to troubleshoot and repair computer hardware and software and develop competency in the Microsoft Office productivity suite.
Students will learn to describe the principles of WAN/LAN network administration and maintain website content. Students will develop oral, written and listening communication skills, and integrate and apply mathematical skills to solve quantitative problems. View Computer Technology, AAS - Technical Support Option in the College Catalog
Computer Technology, Certificate - Microcomputer Support
The certificate offers instruction in the Microsoft Office suite of office productivity software products and will guide students toward professional certification. Courses included in this certificate may be applied toward the AAS. View Microcomputer Support in the College Catalog | Gainful Employment Disclosure
Computer Technology, Certificate - PC Repair/A+
Thiscertificate program prepares the student for employment as a PC repair technician and provides the instructional material to prepare for the A+ industry certification exam. Courses included in this certificate may be applied toward the Computer Technology AAS Networking Option. View PC Repair/A+ in the College Catalog | Gainful Employment Disclosure
Career Opportunities
Graduates may find employment as technical support technicians, network technicians, junior systems analysts, technical sales representatives, customer service technicians, help-desk analysts, IT trainers and web content developers.
Job opportunities will be available with companies in the fields of hardware manufacturing, software publishing, PC consulting, IT engineering and sales, and any company deploying microcomputers in the workplace.
In the 10-county region surrounding Westmoreland County Community College, earnings for occupations related to this program range from $16.75 to $50.67 per hour, with an average hourly wage of $30.59.
*Data provided by EMSI (economicmodeling.com)