Excel in the Growing Field of Dental Hygiene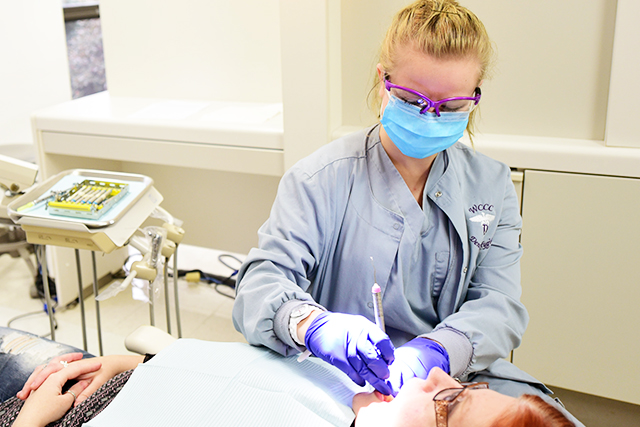 Ready to enter the dental field as a dental hygienist? Westmoreland offers an associate degree that can prepare you to excel in this growing field. The Dental Hygiene programs is accredited by the Commission on Dental Accreditation of the American Dental Association. The commission is a special accrediting body recognized by the United States Department of Education.
What Will I Learn?
Dental hygienists examine patients for signs of periodontal diseases, administer local anesthesia, clean teeth and provide other preventive services. They also provide patient education to improve and maintain good oral health. The Westmoreland program includes clinical experience in the college campus facility. View Dental Hygiene in the College Catalog.
What Will I Earn?
If you plan to stay in the region, there are many occupations related to this program degree and certificates. In the 10-county region* surrounding Westmoreland County Community College, the earnings for occupations in this field range from $23.59 - $39.66 per hour, with an average hourly wage of $30.66.
It is important to remember that wages vary based on level of education, experience, job location and other factors.
Source: Data provided by Lightcast™ (https://lightcast.io/) 2023.1
* 10-county region includes Allegheny, Armstrong, Beaver, Butler, Fayette, Greene, Indiana, Lawrence, Washington and Westmoreland.
Career Opportunities
While most dental professionals practice in private dental offices, others provide services in dental specialty practices, hospital and industrial clinics, correctional institutions, government health agencies, insurance companies and military services. With additional education, dental professionals also work in school systems, dental and dental hygiene education programs, dental sales and research.
Basic Application Process - Health Professions
Complete and submit an Application for Admission to
the college
Download the Dental Hygiene Application Checklist for details on additional requirements
Complete and submit a Health Professions Programs Application
Pay for, complete, and submit the National League of Nursing Preadmission Exam (NLN-PAX) to Westmoreland County Community College. The exam assesses your ability to meet the demands of the Dental Hygiene Program and assesses your skills in math, English, reading, language, and science. You will be evaluated based on the highest of up to two exam attempts submitted to the college per year. More information about the Entrance Exam can be found here.
Submit official transcript from all secondary schools attended, graduate equivalency degree (GED) programs and any other formal educational program beyond high school.
Application Deadline: January 12 prior to fall start
Acceptance Notification: Mid-March
Accreditation
As part of the program accreditation process, please find the Third Party Comment Form for Accreditation.
Frequently Asked Questions