Associate of Science in Chemistry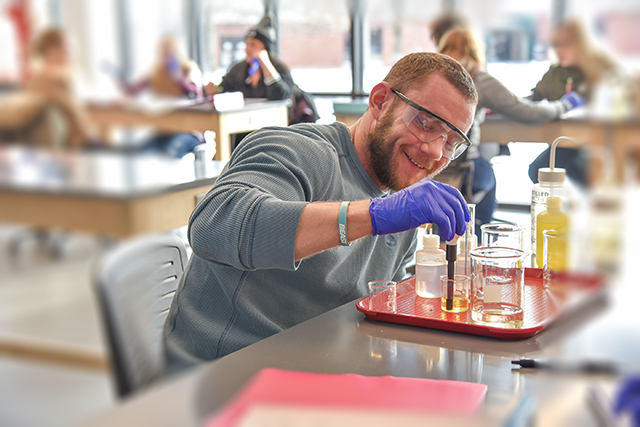 Why Choose Chemistry as a Career?
Chemistry is not limited to beakers and laboratories. It is all around us, and the better we know chemistry, the better we know our world. Understanding the basic properties of matter and learning how to predict and explain how they change when they react to form new substances is what chemistry and chemists are all about.
Careers in chemistry range from research and development and quality control in industry or government, to sales and marketing, law and policy, forensics, chemistry in the arts, higher education, and more.
What Will I Learn?
The Associate of Science (AS) in Chemistry degree prepares students for transfer into Bachelor of Science (BS) degree programs at four-year colleges and universities. Upon successful completion of this degree, students will:
Demonstrate an understanding of the fundamental principles of chemistry
Demonstrate proficiency in writing formulas and names for inorganic, bioorganic and organic chemical compounds using the IUPAC system of nomenclature
Safely construct chemical experiments and analyze/interpret the results
Apply fundamental concepts of chemical reactivity
Apply knowledge of chemical substances to predict properties and interactions
In addition, introductory and capstone courses will help to foster a sense of community, curiosity and interdisciplinary collaboration between Science, Technology, Engineering and Mathematics (STEM) students and faculty. View Chemistry in the College Catalog
Transfer Opportunities
The AS in Chemistry is aligned with the recommendations of the Transfer and Articulation Oversight Committee (TAOC). Students who successfully complete this degree may enroll in parallel Bachelor degree programs at TAOC colleges and universities as juniors (third-year students).
Four-year institutions have specific transfer requirements. Transfer requirements will vary from institution to institution (TAOC and non-TAOC). Please, verify transferability with your transfer institution, and consult with the Westmoreland transfer counselor and your faculty advisor for more information.
TAOC Four-Year Colleges and Universities
PA State System of Higher Education
Bloomsburg University of PA
California University of PA
Cheyney University of PA
Clarion University of PA
East Stroudsburg University of PA
Edinboro University of PA
Indiana University of PA
Kutztown University of PA
Lock Haven University of PA
Mansfield University of PA
Millersville University of PA
Shippensburg University of PA
Slippery Rock University of PA
West Chester University of PA
Other Pa. Colleges & Universities
Cabrini University
Carlow University
Geneva College
Lackawanna College
Lincoln University