Online Learning Provides Convenience and Flexibility
Balancing college with other responsibilities is challenging. That's why we offer many programs and degrees fully or partially online. Students can achieve educational success while meeting their personal and professional obligations. Online learning provides flexibility and convenience at the same tuition rate as face-to-face classes.
Students use state-of-the-art interactive web conferencing technologies and a course management system to interact with their instructor and classmates.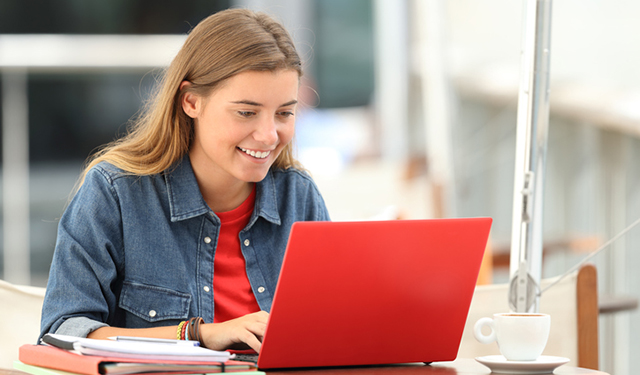 Types of Distance Education
Online Courses
These courses are conducted via the course management system. Students have the options of using a personal computer at home, campus lab, library or at a preferred location. Students engage remotely via discussion boards, assignments, group projects and adhere to deadlines set within the course. Online courses may require proctored exams at the discretion of the instructor. Courses are indicated by ending in W_ in the College Catalog. (Course code examples: EDU 200 WA)
Blended (Hybrid) Courses
These courses meet real-time in a face-to-face setting, on ground, at a predetermined classroom location, date and time. Instruction is split between learning activities online and in a specified location, based on subject matter. Students and instructors will meet in a face-to-face classroom/lab setting at least once a week and complete work asynchronously (outside of the classroom) for the remaining class time. A portion (no more than 50%) of the planned instruction and testing will occur outside of the classroom, when the students and instructor(s) are not in the same place. Courses will utilize a course management system and other technologically-enhanced components. Courses are indicated by ending in B_ in the College Catalog. (Course code example: PDV 101 BA).
Web Conferencing
These courses are conducted real-time in a face-to-face setting at specific dates and times, involving two or more locations. Courses may be offered at the Youngwood campus or at other college locations (Murrysville, Fayette, Indiana, Latrobe and New Kensington). Instructors may alternate instructing from each location, communicating through a TV monitor, microphone or telephone conferencing system. Students may attend at any of these locations and will see and speak with the instructor and students at all sites in real time. A learning management system and web conferencing technology will be utilized. Courses are indicated by ending in _0 in the College Catalog. (Course code examples: ALH 120 30-New Kensington)
Live Interactive
These courses are live streamed, real-time courses that allow students to meet via video chat. Students may login to these courses from home, a library or computer lab and utilize chat, audio and video to communicate with their instructor and peers. Some instructors may teach from a classroom at a Westmoreland location, allowing the student to attend either from home or in person. This method is supplemented by Desire2Learn, which is an online classroom that houses assignments, content, activities and grades. For the best experience, students are required to have access to a camera, microphone and audio. Courses are indicated by ending in WZN in the College Catalog. (Course code example: ALH 120 WZN)
Blended-Live Interactive
In these courses, half of the content is delivered online and half via web conferencing. These are similar to traditional blended courses, with the exception being that the face-to-face component is replaced with live streamed video meetings. Students may login to these courses from home, a library or computer lab and utilize chat, audio and video to communicate with their instructor and peers. Some instructors may teach from a classroom at a Westmoreland location, allowing the student to attend either from home or in person. This method is supplemented by Desire2Learn, which is an online classroom that houses assignments, content, activities and grades. For the best experience, students are required to have access to a camera, microphone and audio. Courses are indicated by ending in BWZN in the College Catalog. (Course code example: BUS 120 BWZN)