Applying for Graduation and Information for Recent Graduates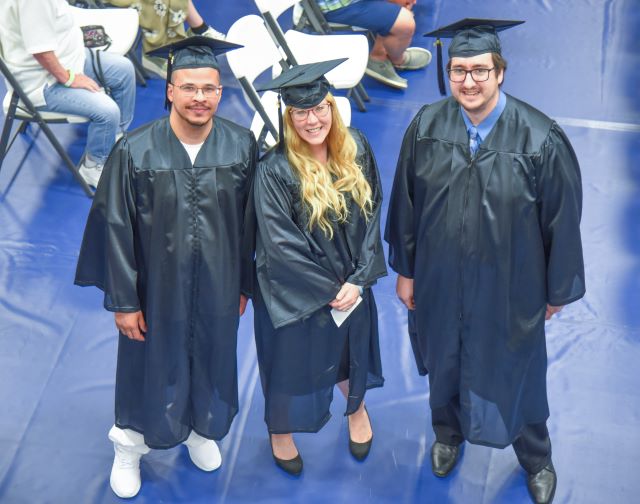 Graduation is an exciting time. Your hard work has led you here and now you are ready to continue your AMBITIOUS JOURNEY. This page will help guide you in your next steps.
Application for Graduation:
Have you applied for Graduation? Please review these requirements:
Complete the requirements for your program of study as listed in the catalog in effect at the time of initial enrollment or any subsequent catalog including the current one.
Meet with your assigned advisor to confirm that you are on track to meet your program requirements for graduation.
Earn at least 50 percent of credential requirements at Westmoreland County Community College under faculty instruction and evaluation. This does not include transfer credits, credits awarded for CLEP and other standardized exams, credit by exam or portfolio.
Maintain a grade point average of 2.0 or better in all course work.*
Fulfill all financial obligations to the college.
File an application for graduation. Please be mindful of the application deadlines for graduation.

Graduation is processed three times per year:

Fall application deadline - December 7
Spring application deadline - March 30
Summer application deadline - July 30


Summer graduates that submit their graduation application on or before March 30, may participate in the spring 2024 ceremony only if within 6 credits of completion.

Applications received after the deadline indicated will move their graduation date to the next upcoming semester.

Summer and Fall graduates from the preceding year are invited to attend the Spring Commencement.
After applying, please continue to check your Westmoreland student email for more information.
Notes: Those who fail to meet graduation requirements must notify the Records Office to reactivate their graduation files. You can still apply for Graduation. Developmental courses (those courses which have course numbers below 100) carry no quality points, may not be used to meet graduation requirements and will not transfer to all senior institutions.
Costs:
Initial Diploma (pick up) - No Cost

Initial Diploma (mailed) - $25

Duplicate Diploma (pick up) - $10

Duplicate Diploma (mailed) - $35
If you need to request a duplicate copy of your diploma, you will first need to submit the Duplicate Diploma Request Form and then contact the Information Center at 724-925-4000 to make payment (see costs above). We accept VISA, MasterCard and Discover. Your duplicate diploma request will not be processed until payment is complete. Duplicate Diplomas are printed once a month so please allow time to process. You can pick up your diploma at one of our locations or we can mail it to your home.
*Exception – QPA requirement for Early Elementary Education PreK-4 = 2.8 minimum
---
2023 Commencement and Grad Walk
Grad Walk 2023 was an incredible day. We hope that all of our graduates had a great day. Please feel free to watch the 2023 ceremony video. You can do this via the link below.