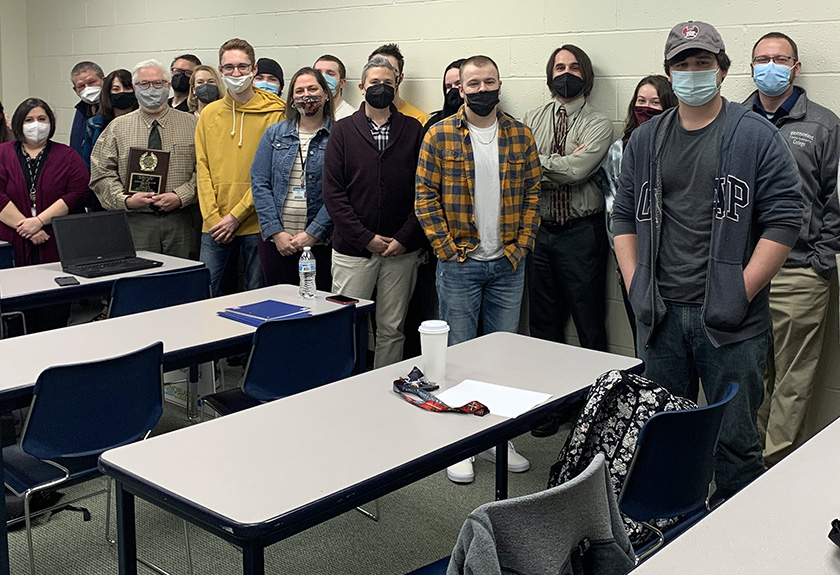 Westmoreland presents Brian Hays with Outstanding Full-Time Faculty Teaching Award
February 16, 2022
Youngwood, Pa.
Westmoreland County Community College recently named Assistant Professor of English Brian Hays of Lower Burrell as the recipient of the 2021-22 Outstanding Full-Time Faculty Teaching Award.
Presented by Dr. Kristy Bishop, vice president for Academic Affairs, the award recognizes and honors a Westmoreland full-time faculty member who demonstrates excellence in the classroom, instructional innovation, contributions to the community and leadership with the college. Faculty are nominated by students and the winner is selected by a committee of their peers.
This year, students submitted 154 nominations for more than 36 faculty members to receive the award.
One student who nominated him for the award said, "Brian was one of my professors that actually cared about how his students did in his class and tried his best to get everybody to understand the topics before proceeding into the next."
Hays' career in teaching started 35 years ago teaching Sunday School and Vacation Bible School. He tutored throughout his undergraduate studies and began teaching at the University of Pittsburgh in 1986.From there he taught at CCAC, Stanley Kaplan, ITT-Tech, Carlow University and joined Westmoreland in 1994.
Hays holds a bachelors degree from Frostburg State College and a masters degree from the University of Pittsburgh.
Hays began teaching Effective Speech Reading and Study Skills at the college's education centers and, in 1997, he became the full-time coordinator for the New Kensington Education Center (formerly the Alle-Kiski Center) where he met with students, talked with them, planned schedules and came to understand them as individuals. His administrative years in New Kensington played a huge role in becoming a full-time Westmoreland faculty member in 2010.
As a full-time faculty member, he became the academic coordinator for English, specifically College Writing and Speech. That position is now the discipline chair for English and Speech. Hays also acts as the curriculum coordinator for College Writing.
Additionally, Hays serves as advisor for several college clubs including the Westmoreland Writers' Guild, the Anime Club and the Gaming Club. These involvements allow him to work with students in a much more informal setting, yet still offers them professional guidance during their academic experience.
Students have frequently mentioned that they had a great amount of concern going into a composition or speech class, but have found Hays' class time enjoyable, instructive and a positive overall experience. At Westmoreland, Brian has found a group of students who are intelligent, creative, unique, focused and unfocused, determined and desperate - a group of students who are decent, kind and always understanding.
During his years at Westmoreland, Hays has served on numerous college committees including Academic Affairs, Human Resources, Student Governance, Faculty Work Groups, Faculty Development, Title III, Achieving the Dream, Middle States and many more.
In his Best Teaching Experience Narrative, he related how students in his Advanced Composition classes have "consistently written 25-page research projects that have collectively taught me subjects I didn't know, perspectives I can't begin to imagine, and respect for their expertise and writing."
"We are so proud to have Brian Hays as a faculty member of Westmoreland County Community College," said Dr. Kristy Bishop. "He is very willing to volunteer and help students as well as the college. He is extremely professional, always has thoughtful feedback and cares about student success."