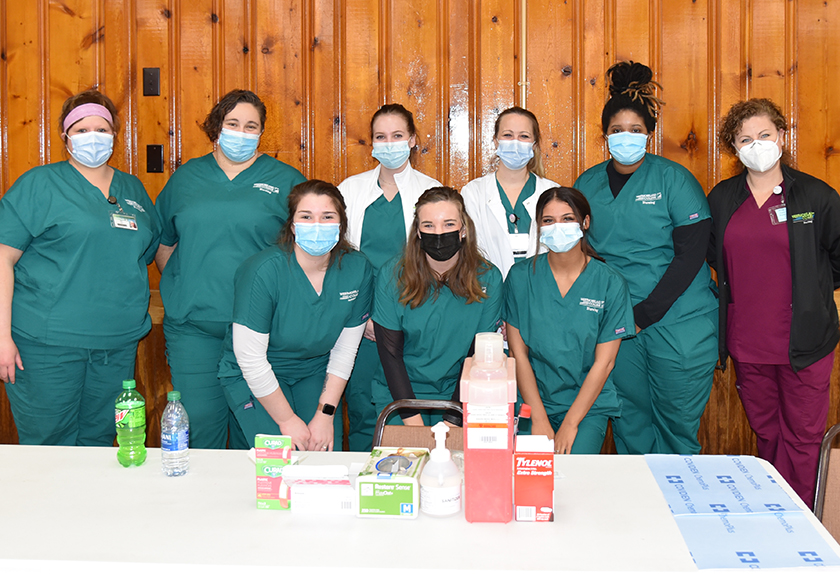 Westmoreland Nursing Students, Faculty Administer COVID-19 Vaccine
February 17, 2021
Stockdale, Pa.
A group of Westmoreland County Community College nursing students and faculty recently assisted at a COVID-19 vaccination clinic at the Stockdale Fire Hall in Washington County.
"The experience at the clinic was wonderful," said nursing student Netah Serock. "It was well organized and everyone who came for the vaccine was very grateful to be getting it."
The event was sponsored by Washington County, with Mon Valley Hospital providing assistance with the vaccination process. Westmoreland is a clinical partner with the hospital for nursing and other health professions programs.
"We got experience in administering injections, speaking to the public, answering questions and just being there for the people of the community," said nursing student Kelly Wesling.
The student nurses volunteered to participate in the clinic to gain valuable experience and also to help the community.
"I feel like it was a once in a lifetime experience to administer the vaccines during a worldwide pandemic," said nursing student Isabelli Cilli. "I was so excited to do it. Anything to help the world get a little bit back to normal, I would want to take part in it."
The nursing students worked alongside Westmoreland faculty members, as well as current and retired healthcare professionals.
"One of their favorite parts was getting to work alongside experienced 'seasoned' nurses or retired nurses who were so kind and shared stories and words of encouragement," said Westmoreland Assistant Professor of Nursing Carie Shedlock. "Those individuals who donated some time to 'give some shots' may never fully know what a fantastic impact they made on the hearts of these future nurses."
The Accreditation Commission for Education in Nursing (ACEN) and the Organization for Associate Degree Nursing (OADN) are advocating for nursing education programs to have an increased role in the nationwide vaccine rollout. Westmoreland's nursing program is a member of OADN and accredited by ACEN.
"I'm confident these students will go on to do great things and care for many people. I'm proud that I got to stand beside them and be part of this effort on a day we will not soon forget," Shedlock said.
For her, the clinic provided more than vaccinations and learning experiences.
"I believe the clinic served to provide some hope to people. Hope of once again gathering around a dinner table with friends and family, hope that someday we won't worry that a hug could potentially harm or kill someone you love and hope that maybe life will get back to some normalcy."