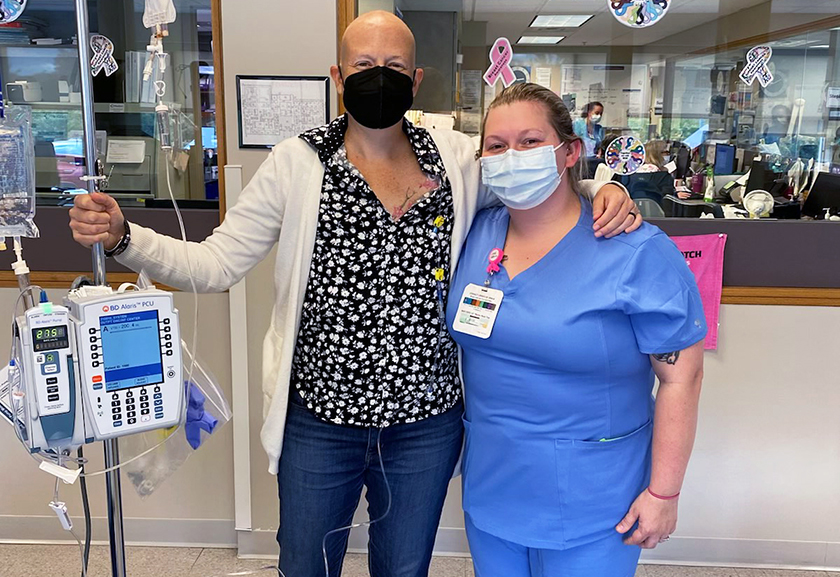 'The world needs to see this person and what she's done for me': Nursing Graduate Helps Westmoreland Staff Member Through Cancer Treatments
January 13, 2022
Alexis Kolman knew the name sounded familiar. From where did she know Julie Greathouse?
"I quickly realized that I had heard her name around the college and had received many helpful emails from her," Kolman said.
It was 2017 and Kolman was a student in Westmoreland County Community College's evening nursing program while also working as a medical assistant at UPMC Hillman Cancer Center, where Greathouse, the college's director of Student Success, had just become a patient.
"She worked at the oncology office and she was always the one that checked me in," Greathouse said. "The one thing that always stood out to me is that she was always smiley." The two hit it off, especially once they realized the connection.
"Julie asked me about school every time I saw her and I knew that I could count on her if I needed anything, and vice-versa," Kolman said.
The pair would connect every six weeks or so.
"As a cancer patient, we're at the office more than we want to be, " Greathouse said. "She was always there. I feel like she's given more to me than I've given to her."
Kolman graduated from the nursing program in December of 2020 and was hired as a nurse in the same office. While Greathouse didn't have a chance to interact with her as much, she had the opportunity to see her work with other patients.
"I was excited about her progress, not just as a Westmoreland student, but just somebody who's working their butt off - going to school, working full time and having a child in the middle and is still able to graduate and become successful," Greathouse said.
While Kolman plans to begin work on her Bachelor of Science degree in Nursing next year, Greathouse recently celebrated her final treatment.
"Julie is truly an inspiration," Kolman said. "I'm so glad that we got to help each other through our journeys and I wish her nothing but the best!"
Greathouse said she couldn't resist grabbing a photo with Kolman.
"There's just something about Lexi. The world needs to see this person and see what she's done for me and how our school helped her get there," Greathouse said. "I felt like it was important to put it out there to celebrate the school and celebrate her."