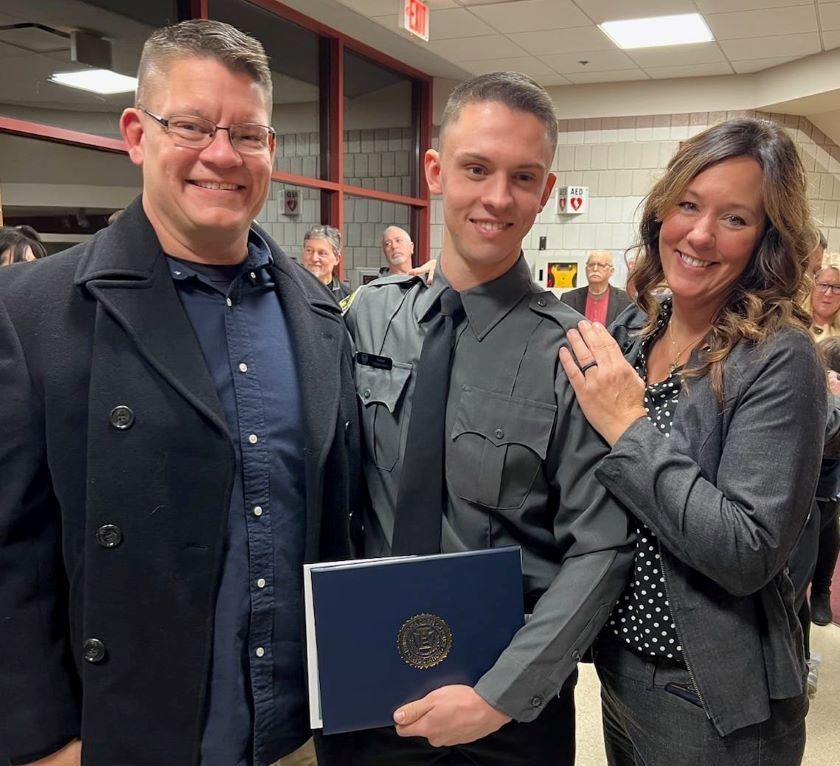 For one Rostraver family, law enforcement is a way of life
February 2, 2023
For the Naylor family of Rostraver, law enforcement has become a tradition passed on to a second generation.
Ron and Colleen Naylor met when they were working as part-time officers with the North Belle Vernon Police Department. While both attended Westmoreland County Community College earning associate degrees in Criminal Justice, they attended at different times and didn't meet until 1997.
Ron knew that he wanted to pursue a career in law enforcement from early on in life.
"I grew up watching police shows where at the end of each episode, the police caught the bad guys and they wouldn't be able to victimize any more people," said Ron. "I liked the idea of being an officer because it would be exciting and not the same daily routine plus I would have the satisfaction of helping people in my community."
After graduating from Westmoreland, he attended the Pennsylvania Municipal Police Academy at IUP. He worked a number of part-time jobs including as an officer with the North Belle Vernon, West Newton and Rostraver police departments as well as the Westmoreland County Sheriff's Department.
He is currently employed full-time with Rostraver as a patrol sergeant and serves as the department's firearms and Taser instructor.
Colleen said she chose a law enforcement career because she always looked up to the police and thought it would offer her an exciting career with the added bonus of helping others.
While at Westmoreland, she not only earned her associate degree but also attended the college's part-time Municipal Police Officers' Academy, graduating in 1997.
"I've been an officer since 1997 and met Ron during my first assignment with North Belle Vernon," Colleen said. "I also worked with the California Borough Police Department part-time but after having our sons, we thought it would be best that I work part-time to raise them until they reached high school."
Colleen returned to full-time work as an officer with the Rostraver Police Department two years ago.
Ron and Colleen knew that their eldest son Ronnie was interested in becoming a police officer like his parents.
"I was inspired by my parents but also by all of the other law enforcement officers I grew up around," said Ronnie. "I've wanted to do this since I was a little kid and at first they tried to guide me away from it but eventually became very supportive."
"Initially, we tried to steer him in another direction because times have changed," said Ron. "Police are portrayed in the media all too often as bad and unnecessary."
The Naylors said that, as parents, of course they are going to worry about the safety of their child but are impressed with how much Ronnie learned through the academy. They both know several of the instructors personally and are very comfortable knowing he's been provided with the training needed to do the job well and stay safe.
"I know what it's like to have a dream and not have the support of your family and didn't want Ronnie to feel that way," said Colleen. "Ron and I decided to support and guide him through his law enforcement journey."
Ronnie recently graduated from Westmoreland's Municipal Police Officers' Academy in December and was employed with the Westmoreland County Sheriff's Department but was recently sworn in as an officer with the Monessen Police Department.
"I can't wait until he comes home excited to tell me about his shift where he got that rewarding feeling of helping someone," said Ron. "He will see things and have experiences in just a few years that the average person may never experience in their lifetime."
"Isn't that what life is all about, the experiences?" Ron concluded.
Westmoreland is currently accepting applications for the full-time academy.