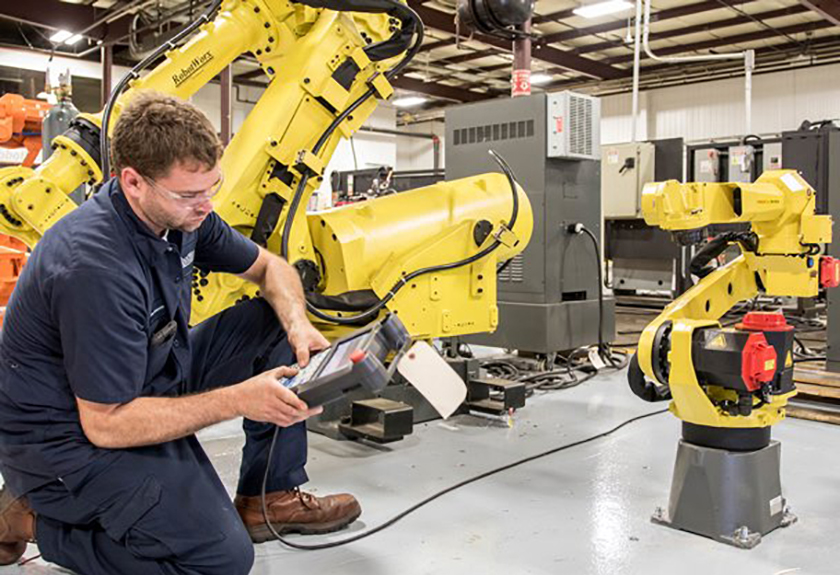 Manufacturing Engineering Education Program Grant Initiative Expands Westmoreland's Advanced Manufacturing and Robotics Program with Curriculum, Apprenticeship
July 2, 2019
Youngwood, Pa.
Westmoreland County Community College will collaborate with the Massachusetts Institute of Technology (MIT) and Advanced Robotics for Manufacturing (ARM) to expand its Advanced Manufacturing and Robotics curriculum to address the rapidly changing needs of manufacturers as part of a $1.8 million Manufacturing Engineering Education Program (MEEP) grant from the Office of Naval Research.
The grant was awarded to MIT for the creation of technician-certification programs through Pittsburgh-based ARM and the American Institute for Manufacturing Integrated Photonics Academy (AIM Photonics Academy) in Massachusetts. Westmoreland County Community College was selected as one of four cutting-edge institutions capable of delivering a high-level technician training program due to the college's state-of-the-art Advanced Technology Center and continued success in placing graduates in career positions within industry. By creating new Advanced Manufacturing and Robotics courses at the college and adding a capstone apprenticeship opportunity for students, the MEEP initiative hopes to create a workforce training program that can be transferred across industry sectors in alignment with manufacturers' ever-evolving technical demands.
"Each year, manufacturing processes become increasingly automated, creating a skills gap for technicians without prior knowledge of electronics integration and automation," said Dr. Byron Kohut, Dean of Westmoreland's School of Technology. "By combining hands-on training in emerging technologies with apprenticeship opportunities at local manufacturers, we can graduate highly-skilled technicians who are immediately employable and capable of meeting employers' current and future workforce demands."
ARM will play a critical role by providing the background research that will drive the stimulus for the certification program. Funded by the Department of Defense as part of the Manufacturing USA network, ARM's mission is to accelerate the use of industrial robots to drive growth in the national manufacturing sector. "The goal of ARM is to prepare workers in the United States to thrive in the new environment created by advances in manufacturing," said Dr. Steve Catt, ARM's Deputy Director for Education and Workforce Development. In addition to providing background research, ARM boasts an extensive network of member organizations who can be introduced to graduates for possible future apprenticeships or employment.
Westmoreland's 15-month Advanced Manufacturing and Robotics program begins August 15 at the college's Advanced Technology Center in Mount Pleasant, PA. Once enrolled, students will complete three semesters of hands-on skills instruction at the college before participating in a capstone apprenticeship with a local manufacturer during the Fall 2020 semester. Upon graduation, students will have the functional knowledge and skills needed to design, construct, repair, and conduct analysis of complex automated systems with the aim of operational efficiency, which can be applied to positions such as industrial technician, process specialist, and/or automation technician.
Enrollment for the Fall 2019 semester is now open. Individuals interested in the program are encouraged to apply via Westmoreland's website: www.westmoreland.edu. Additional financial aid may be available.
For more information, contact Adam Margovic, Advanced Manufacturing and Robotics Program coordinator, at 724-925-8478 or margovica@westmoreland.edu.