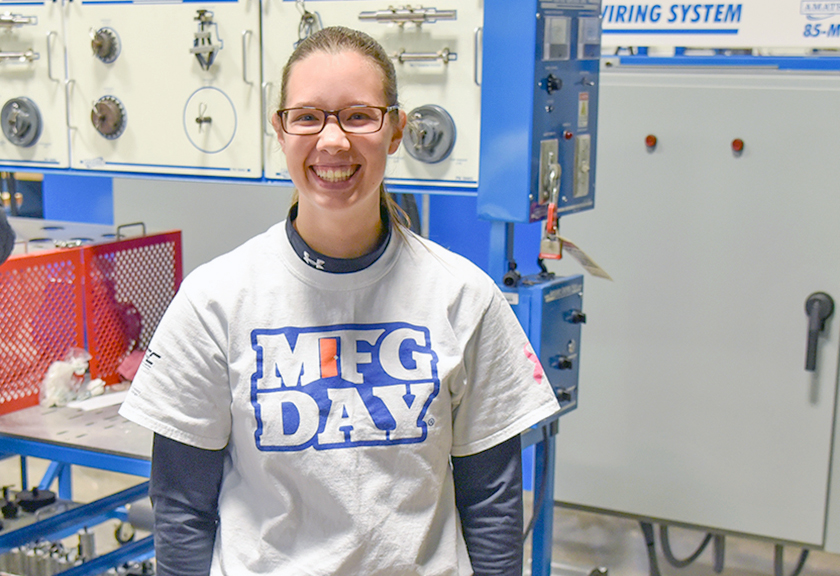 HVACR Student Honored with Scholarship from Mike Rowe Works Foundation
November 14, 2019
Youngwood, Pa.
Kristen Suhan, a Westmoreland County Community College student who is working towards a degree in Heating, Ventilation, Air Conditioning and Refrigeration (HVACR), is the recipient of a Work Ethic Scholarship from the Mike Rowe Works Foundation.
The foundation, which was created and named for the star of television's Dirty Jobs, raises awareness about the need for skilled labor.
"It is really an honor," Suhan said.
The 23-year-old Southmoreland graduate is the only woman in the HVACR program. She attends classes full-time while working at Stanton Energy Industry Consultants.
"At first I was terrified because I'm the only female in the program," Suhan said. "But looking back, I did open up. I used to be shy."
After Suhan graduated from high school, she entered the workforce. Two years later, she decided she needed a change and chose to study HVACR.
"I wanted to do something where I could get my hands dirty because I'm not a person who can sit behind a computer all day," Suhan said. She will graduate from the program in May and hopes to work in troubleshooting and service, as well as commercial units and equipment.
"I really enjoy learning about the systems, how difficult and challenging they can be," Suhan said. "It's exciting."
She shared her enthusiasm with middle and high school girls recently during the college's Women in Manufacturing events.
"It's really exciting to share information about what you can learn," Suhan said.
Each fall, the college invites girls from local schools to its Advanced Technology Center, where students and faculty members introduce them to careers in the trades and manufacturing – fields that have been traditionally dominated by men.
"I told them this is an opportunity," Suhan said. "If you can see me do it, there's no reason you can't do it."
Family and friends encouraged her to apply for the scholarship, which will cover most of Suhan's tuition and expenses for one semester. She maintains a 4.0 grade-point-average, and she wrote about her love for education as part of the application process.
"I feel like with education, it doesn't matter if you're in school, reading or watching a video - you're learning something," Suhan said. She chose HVACR because she believes there is always an opportunity to learn.
"I'm very passionate about learning more as I progress into the trade."
According to the foundation's website, the Work Ethic Scholarship Program is "about the people who share our values and understand the importance of work ethic, personal responsibility, delayed gratification, and a positive attitude."
The Pennsylvania Chamber Educational Foundation teamed up with the Mike Rowe Works Foundation to help award scholarships specifically to Pennsylvania students and to increase public awareness around the growing demand for workers in the skilled trades.
"I'm very grateful that someone … decided I'm worth it, that I'm putting in the time and effort," Suhan said.
Her story is featured on the Pennsylvania Chamber Educational Foundation website and will soon be posted on the foundation's website and social media pages.