Get The Skills For an In-Demand Career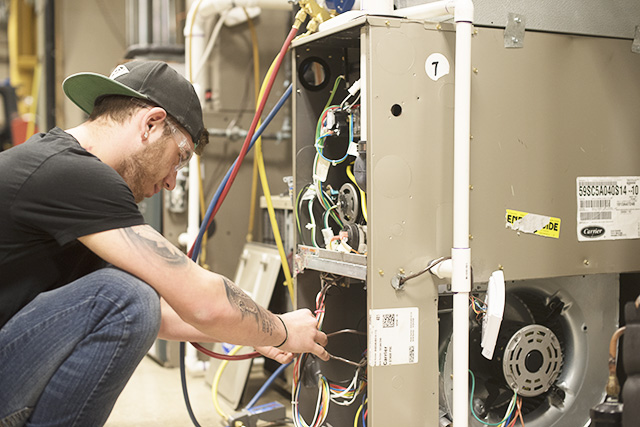 Westmoreland offers an associate degree, diploma and two certificates in Heating, Ventilation, Air-Conditioning and Refrigeration (HVACR).
Why choose a career in Heating, Ventilation, Air-Conditioning and Refrigeration?
Those interested in the field of HVACR must enjoy working with their hands, have mechanical ability, enjoy the challenge of solving a problem, enjoy utilizing technology, and be able to deliver the finest in customer service.
Graduates in this field exhibit the ability to communicate verbal and written orders, read and interpret charts, diagrams, installation and service manuals.
What Will I Learn?
Westmoreland's HVACR program provides students with an in-depth background of the heating, ventilation, air-conditioning and refrigeration industry. By combining theory and practical shop experiences, students will develop the skills needed for design, installation, maintenance and troubleshooting HVACR systems for residential and light commercial applications.
Students will learn the refrigerants used in the industry, the basic refrigeration cycle, calculate design load and duct sizing to ACCA standards, fabricate ductwork, and control circuitry. The skills to install and service gas and oil furnaces are stressed. Students will install and service water based heating and cooling systems, air conditioners and heat pumps, basic wiring, and learn refrigerant recovery techniques.
This program also offers students the opportunity to become certified in EPA Refrigerant Handling by passing the EPA Refrigeration Exam.
What Will I Earn?
If you plan to stay in the region, there are many occupations related to this program degree and certificates. In the 10-county region* surrounding Westmoreland County Community College, the earnings for occupations in this field range from $16.84 - $37.72 per hour, with an average hourly wage of $25.81.
It is important to remember that wages vary based on level of education, experience, job location and other factors.
Source: Data provided by Lightcast™ (https://lightcast.io/) 2023.1
* 10-county region includes Allegheny, Armstrong, Beaver, Butler, Fayette, Greene, Indiana, Lawrence, Washington and Westmoreland.
Career Opportunities
This in-demand career offers students an opportunity to enter the work force immediately upon graduation. Our graduates have obtained jobs with the following titles: HVAC instructor, service technician, installer, inside salesperson, maintenance technician, contractor and troubleshooter.