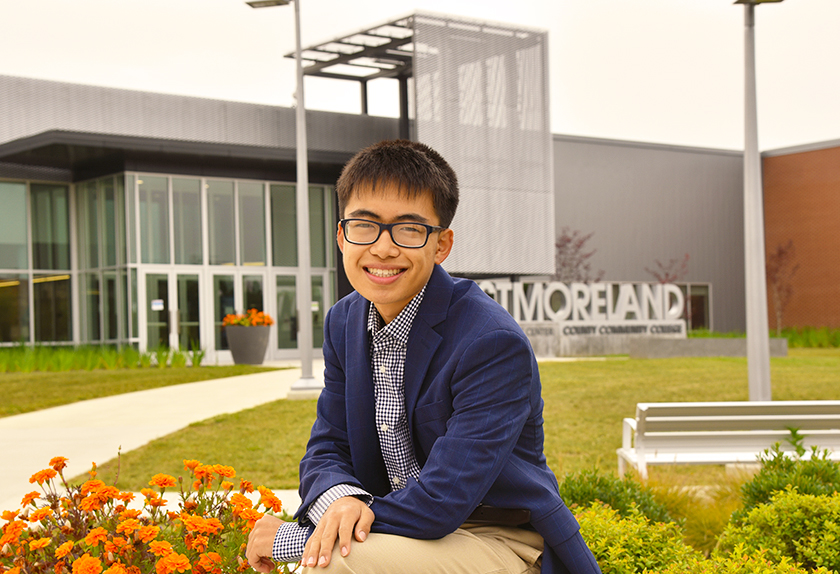 High School Junior Earns Degree Through Westmoreland's Early College Program
October 5, 2020
Youngwood, Pa.
As David An prepares to graduate from high school this spring, he feels uniquely prepared to take on the challenges of college. That's because he has already earned a degree!
The Latrobe teen earned an Associate of Applied Science degree in Computer Science from Westmoreland County Community College last spring, when he was still a high school junior.
"This has really helped me broaden my whole experience base and my knowledge base," An said.
So how did he do it? Through his participation in Westmoreland's Early College program, An attended evening classes at the Youngwood campus, Westmoreland-Latrobe and mostly online. He was also able to test out of some required courses and use advanced placement credit.
It was a busy time for An, who is a member of the Greater Latrobe cross country and track teams.
"Sometimes, I would have to go straight from track practice to class and then go home and do my homework," An said. "Even though it's a bit of stress, especially during midterms and finals when you have all sorts of things conflicting at once, it does teach a lot of valuable skills."
Those skills include time management and note taking, which paid off - he made the President's and Dean's lists multiple times. "I like to take notes now," An said.
As for the future, An plans to attend a 4-year college or university, where he may be able to transfer in as a junior. He is considering a major in computer science or math.
"I have the possibility of finding an internship easier because I have the credential or getting a job sooner or a teaching assistant position," An said.
He doesn't hesitate to recommend the Early College program to other high school students.
"It could be a time saver and a money saver," An said. "Don't be afraid to take any opportunity."
David An would like to extend his thanks to Mrs. Kuhn and the Greater Latrobe administration during these few years. In addition, he would like to express gratitude to the administration at Westmoreland County Community College.