Define You, Redefine the World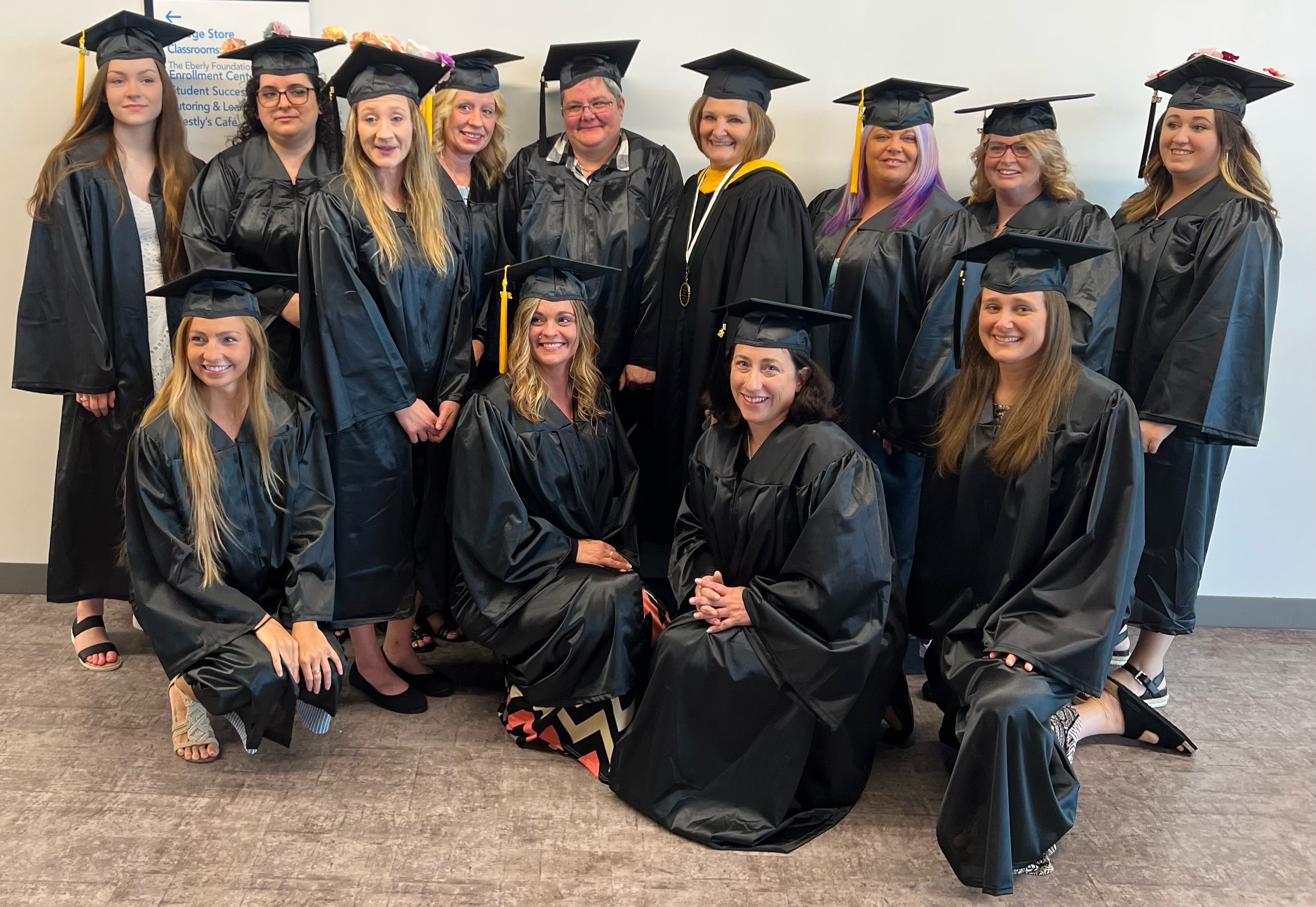 Westmoreland County Community College's Social Work program prepares future social workers to empower themselves, their clients, their communities and the world with a high-quality education in the classroom and beyond. Faculty, with varied work and practice experience who are active in the community, will teach you the tools necessary to make a difference, while instilling the desire for lifelong learning and the foundational skills you will need to continue on your educational journey, wherever it may lead.
Program Information
Associate Degree
The social work program consists of 62-65 credits and will include both general education classes, skills classes and theory. Each semester, the student will meet with the program director to schedule classes that will move them to graduation, job and transfer in the most time and cost effective manner. View Social Work, AAS in the College Catalog
Social Work Certificate
On your way to an associate degree, earn your certificate in social work in just three short semesters. This will give the student the required skills to move into a direct care job while finishing the associate program. Each semester, the student will meet with the program director to schedule classes. View Social Work, Certificate in the College Catalog
PDV 101 First Year Seminar
This course provides strategies for adjusting to college culture and understanding college expectation. Students will learn about the college's resources, services, policies and educational technology. Students will develop skills in educational planning, goal setting and time management, and will refine their learning strategies for academic success. Social responsibility, cultural competence and integrity will be discussed and practiced as necessary components for success in college and beyond.
SWK 155 Introduction to Social Work
An introductory course for the student who plans to work with people in need. The course will provide the student with an overview of the information and skills needed to effectively work with a variety of populations in their community. The course will include information about the necessary personal qualities, service delivery systems and basic skills. It will also provide an overview of the history of the helping profession and how social policy influences the profession. Students will become familiar with the service providers in the local area. Additionally, students will examine their personal feelings and motivations related to becoming a helper.
Elective
SWK 157 Interviewing and Recordkeeping
As the follow-up course to HMS 155 with an emphasis on individual interviewing skills in the helping services, this is a key course in the human services program as it teaches essential information gathering and recording skills for the human services worker. It is a very interactive course with much time devoted to practicing interviewing skills with classmates. Recordkeeping skills include learning to distinguish between objective and subjective information, how client files are organized and the methods used to compile a client history and assessment. Prerequisite(s): HMS 155
SWK 172 Drug and Alcohol Dependency
Is an introductory course for the student intending to work with people in a variety of settings, including the social services, health services, education and criminal justice. This course will provide the student with an overview of substance abuse and treatment issues. Focus will be on learning about the major categories of abused substances, the nature of addiction, treatment and recovery and the impact of substance abuse and addiction on specific populations.
SWK 160 Group Processsing
This course provides the basic knowledge needed to be an effective group leader and member. Emphasis is on practical application of group process skills. Prerequisite(s): HMS 155, HMS 157
PSY 160 General Psychology
Is an introduction to the study of human behavior. Psychology is presented as both a biological and a social science. Facts, principles, processes, theories and research are explored in the course of study. The course will include the application of the scientific method, analysis of human behavior and synthesis of the components and causation of human behavior.

What Will I Earn?
If you plan to stay in the region, there are many occupations related to this program degree and certificates. In the 10-county region* surrounding Westmoreland County Community College, the earnings for occupations in this field range from $13.09 - $23.82 per hour, with an average hourly wage of $18.00.
It is important to remember that wages vary based on level of education, experience, job location and other factors.
Source: Data provided by Lightcast™ (https://lightcast.io/) 2023.1
* 10-county region includes Allegheny, Armstrong, Beaver, Butler, Fayette, Greene, Indiana, Lawrence, Washington and Westmoreland.
Transfer Agreements
Westmoreland County Community College prepares students for an entry level career in social work and also to transfer to a four year school for their bachelor's degree. Westmoreland has transfer agreements with the following schools so when transferring, the student will be in their junior year, therefore saving both time and money.
PennWest California/Edinboro is a public, state school located in California, Pa and Edinboro, Pa.
The university offers both the bachelor's and master's of social work degree in a traditional format.

Required Westmoreland electives to transfer: SPC 155, HIS 255, and POL 155
Millersville University is a public, state school located in Millersville, Pa.
The university offers a bachelor's, master's and doctorate degree in social work. Classes are conducted remotely.

Required Westmoreland electives to transfer: SWK 163, POL 155, and BIO 107
Seton Hill University is a private school located in Greensburg, Pa.
The behavioral health program is part of the adult degree program and is provided remotely. Three years of classes can be completed at Westmoreland with the fourth remotely with Seton Hill Behavioral Health.

Required Westmoreland electives to transfer: BUS 158, ASL I, and ASL II.

The social work program is provided in the traditional classroom.

Required Westmoreland electives to transfer: HIS 155, HIS 156, ASL I, and ASL II.

Social Work Club
The social work club provides opportunities to volunteer in the community not only to gain experience in helping people but to network with social work professionals and learn the social service system. Become an officer or event coordinator and gain leadership skills.
Volunteer Opportunities
Volunteer at campus events

Volunteer at community events

Bring your family
Leadership Opportunities
Become an officer

Build your resume

Coordinate an event
Network
Meet other students

Meet more faculty and staff

Make connections with professionals in the community
Meet and Greet
Meet those who will be a part of the student's educational journey - faculty, alumni and advisory board.
Faculty
The faculty for the social work program at Westmoreland have decades of experience in direct practice and bring those real world examples into the classroom. The faculty have experience working with children, adults and the elderly in areas such as poverty, mental health, healthcare and corrections.
Stephanie Turin, MSW, LCSW
Program Director, Full-time Faculty
Erica Maloney
Part-time Faculty
Bob Brinker
Part-time Faculty
Alumni
Advisory Board
The social work program advisory board is instrumental in keeping the program up to date by providing insight into changes in services delivery in the area. They also provide networking and practicum supervision.
Betsy Brajdic, MA
Senior Program Advisor, Graduate & Adult Studies
Seton Hill University
Carla Colello
Licensed Clinical Social Worker


VA Community Based Outpatient Clinic

Lisa Dysert
Director of Human Resources


Adelphoi, Inc.

Renee Dadey, MSW
Social Worker


Redstone Home Health and Hospice

Dr. Andrew Barnette
Dean - School of Art, Humanities, Social Sciences & Public Service


Westmoreland County Community College

Amie McKeel, MSW
Quality Assurance Program Specialist - ESSA POC
Westmoreland County Children's Bureau
Thomas A. Nelson III, MSW
Therapist/Counselor
Penn Highlands Connellsville
Lyndsay Burrick, MSW, LSW
Assistant Director
Union Mission
Dr. Susan McClure
Professor of Psychology
Westmoreland County Community College
Dr. Sheri Boyle, PhD, MSW
Associate Professor
California University of Pennsylvania
Anna Joyner
Pittsburgh Community Services, Inc., Pardon Fellow
Trisha Simon
Alternative Living Solutions
Collette Wilson
Perkins Coordinator/KEYS Student Facilitator
Westmoreland County Community College
Breane Minardi, MSW
Director of Clinical and Case Management Services
Westmoreland Drug and Alcohol Commission