Learn Computer Programming from Experts in the Field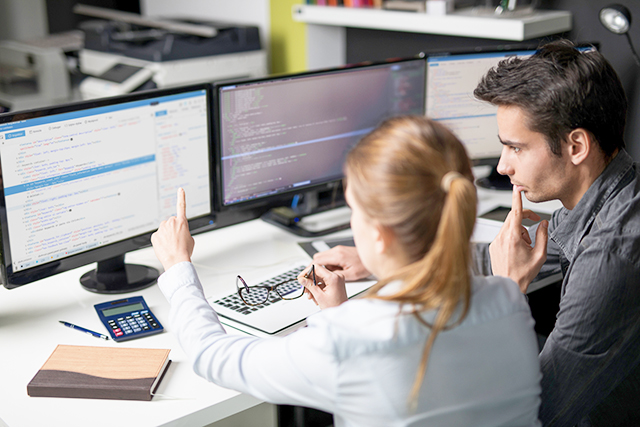 Students interested in computer programming must be able to analyze needs and product requirements to create a design, generate or adapt equipment and technology to serve user needs, determine causes of operating errors and deciding what to do about them and how changes in conditions, operations, and the environment will affect outcomes. They work well as team members and are excellent communicators both verbally and in writing.
Behind every application lies a database or storage that is one of the most valuable assets of any enterprise - its data. Developed in consultation with professionals in the field, the programming option provides students with a strong background in the programming and data extraction skills needed to be successful in programming. The program provides hands-on experience in Visual Basic, C++, JAVA, SQL and other software tools.
What Will I Learn?
The Programming option at Westmoreland prepares students to analyze problems for development and design of information processing solutions and use a programming language to develop efficient and well-structured application programs.
The Programming option teaches students to function as a member of a development team to determine program intent, output requirements, input needed and processing sequences for new programs and maintain existing programs as internal and external requirements change.
Students will learn to develop test modules to verify program accuracy and identify the resources needed to advance technical skills as the computer field changes.
What Will I Earn?
If you plan to stay in the region, there are many occupations related to this program degree and certificates. In the 10-county region* surrounding Westmoreland County Community College, the earnings for occupations in this field range from:
Computer Technology, Programming, AAS: $22.28- $48.88 per hour, with an average hourly wage of $34.97

Computer Technology, Programming, Certificate - Information Security Option: $23.63 - $62.95 per hour, with an average hourly wage of $41.81
It is important to remember that wages vary based on level of education, experience, job location and other factors.
Source: Data provided by Lightcast™ (https://lightcast.io/) 2023.1
* 10-county region includes Allegheny, Armstrong, Beaver, Butler, Fayette, Greene, Indiana, Lawrence, Washington and Westmoreland.
Career Opportunities
Graduates of the programming option may find employment as computer programmers, junior systems analysts, programmer analysts, technical sales representatives, technical support analysts, or web developers.
Job opportunities will be available with consulting firms, Internet companies, Web development firms, and in organizations requiring development of in-house decision support or ad hoc systems.