Become a Medical Assistant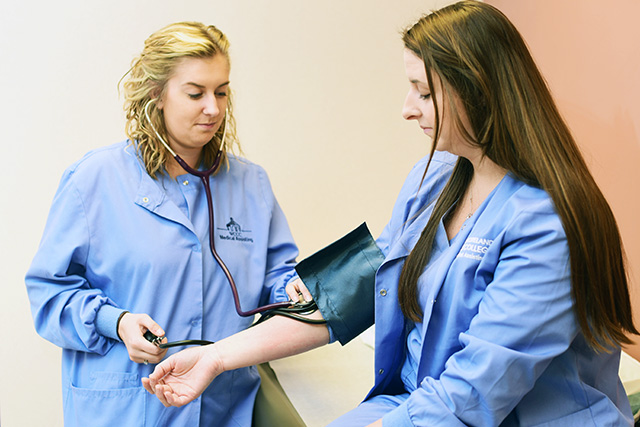 Medical assistants complete administrative and clinical tasks in the offices of physicians, hospitals and other healthcare facilities. Medical assistants may be required to balance a variety of duties including:
Collecting patient histories
Taking vital signs
Collecting specimens
Giving injections
Filing paperwork
Records maintenance
Their duties vary with the location, specialty and size of the practice. The Westmoreland Medical Assisting program prepares the graduate to assist the physician with the care and treatment of patients in both administrative and clinical procedures. View Medical Assisting in the College Catalog | Gainful Employment Disclosure
Graduates apply for the national Certified Medical Assistant (CMA) examination. Students are also eligible for the Registered Medical Assistant (RMA), Certified Clinical Medical Assistant (CCMA) and the Registered Phlebotomy Technician (RPT) credentials.
The Medical Assisting, Diploma is accredited by the Commission on Accreditation of Allied Health Education Programs upon the recommendation of Medical Assisting Education Review Board (MAERB).
Career Opportunities
Medical assistants may be employed in doctor's offices, clinics and health maintenance organizations.
Basic Application Process - Health Professions
Attrition, Job Placement, and Credentialing Success Rate Outcomes
Enrollment, Retention and Graduation
Enrollment Date
Number of New Students Enrolled
Number of Students Transferring In
Total Students In Class
Number "In Progress" or "Stopped Out"
Number "Dropped Out" (Attrition)
Number of this Class Graduated to Date

August 2017

9

0

9

0

0

9

Graduates for Cohort Admitted 2017

9

100%

August 2016

9

0

9

0

0

9

Graduates for Cohort Admitted 2016

9

100%

August 2015

9

0

9

0

1

8

Graduates for Cohort Admitted 2015

8

88.89%

August 2014

8

0

8

0

0

8

Graduates for Cohort Admitted 2014

8

100%

August 2013

5

0

5

0

0

5

Graduates for Cohort Admitted 2013

5

100%

40

0

1

39

97.50%

39

Retention Threshold 60%
Job placement rate for the 2016 cohort year is at 88.89% from the 2018 ARF.
Five-year average for passing a Medical Assisting Credentialing Exam is 88% (threshold is 60%).