Have an Impact on the Lives of Children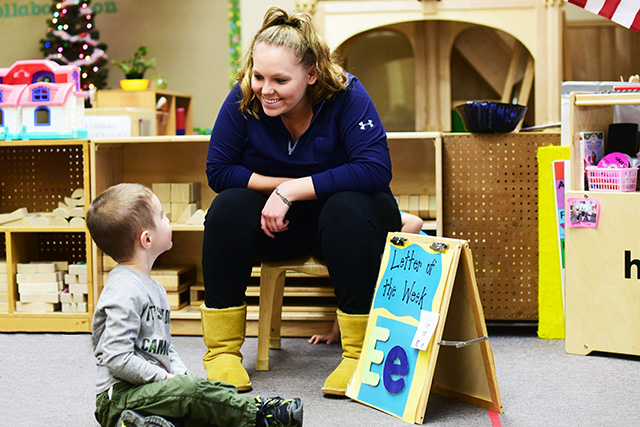 Westmoreland offers two degrees, a diploma and two certificates in Early Childhood Education. We also offer coursework to complete the CDA credential as well as Pennsylvania's Director Credential.
Why choose Education as a career?
Early Childhood and Primary Education (PreK-4) are fields where practitioners have a powerful impact on the lives of children and their families. Educators must be creative, patient and possess a willingness for life-long learning as they stay current with the ever-changing fields of child development and education. Most importantly, educators must be inclusive so they can create equitable classrooms that serve all children and their grownups.
What will I learn?
Westmoreland's Early Childhood Education program is taught by faculty with a student to teacher ratio of 15:1, which gives plenty of time for individualized attention.
For those interested in seeking teacher certification for primary grades, PreK-4, Westmoreland's program meets the standards for transferring to over 20 four-year institutions in the Pennsylvania Transfer and Articulation Center (PA TRAC) system for degree completion.
Scholarship Opportunities
Westmoreland is a PASSHE PDO partner, which means that if you qualify, you can receive full tuition reimbursement for up to 24 credits per academic year with this scholarship. To qualify you must:
Be a PA resident
Work in a PA licensed childcare center
Work an average of 25 hours per week (during non-COVID periods)
You can find out how to apply and more information at https://ecepdo.org/
In addition to the PDO Scholarship, Westmoreland also participates in the Rising STARS and TEACH scholarship programs.
The Rising STARS Tuition Assistance Program from the PA KEY will pay for 95% of tuition costs and fees for qualifying students for the CDA program and PA Director's Credential Coursework.
The TEACH program offers support for tuition, books, travel and paid release time for practitioners who qualify and are seeking the CDA or any Associates degree.
Career Opportunities
Depending on the pathway you choose, completers of the Education program find jobs in a variety of agencies including public and private preschools, child care centers, and with public service organizations.
Based on the type of employment you pursue, graduates can serve as lead or assistant teachers in pre-k classrooms, Head Start, and family and private care centers. Other opportunities include becoming a center director, owning your own center, or working in the public school system as a paraprofessional or teacher's aide.
Graduates can also transfer to 4-year institutions to complete degrees in PreK-4 education for certification as primary education teachers.