Associate of Science Degree in Computer Science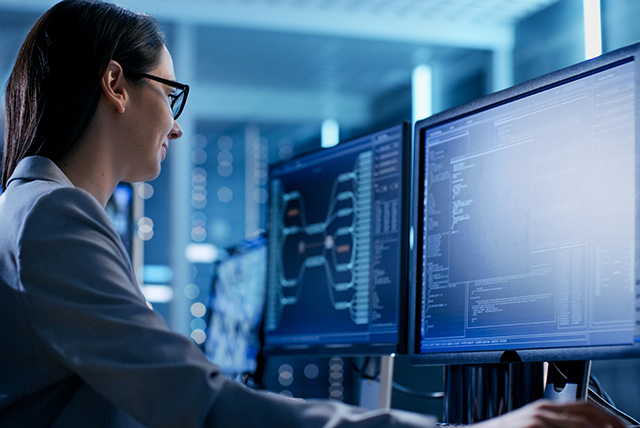 Students interested in pursuing a career in the computer field and planning to complete a bachelor's degree at a four-year school will consider the Computer Science AS degree. It is a mathematics-oriented degree designed to meet General Education requirements at local four-year institutions.
What Will I Learn?
Upon successful completion of this program, students will be able to:
Translate scientific, engineering and other technical problems into formulations which can be processed by the computer
Apply knowledge of advanced mathematics to prepare logic diagrams and encode resulting equations for processing
Demonstrate competency in critical thinking, writing, information literacy, oral communication and quantitative reasoning
View Computer Science in the College Catalog
Transfer Opportunities
The AS in Computer Science is aligned with the recommendations of the Transfer and Articulation Oversight Committee (TAOC). Students who successfully complete this degree may enroll in parallel Bachelor degree programs at TAOC colleges and universities as juniors (third-year students).
Four-year institutions have specific transfer requirements. Transfer requirements will vary from institution to institution (TAOC and non-TAOC). Please, verify transferability with your transfer institution, and consult with the Westmoreland transfer counselor and your faculty advisor for more information.
TAOC Four-Year Colleges and Universities
PA State System of Higher Education
Bloomsburg University of PA
California University of PA
Cheyney University of PA
Clarion University of PA
East Stroudsburg University of PA
Edinboro University of PA
Indiana University of PA
Kutztown University of PA
Lock Haven University of PA
Mansfield University of PA
Millersville University of PA
Shippensburg University of PA
Slippery Rock University of PA
West Chester University of PA
Other Pa. Colleges & Universities
Cabrini University
Carlow University
Geneva College
Lackawanna College
Lincoln University