Design Your Future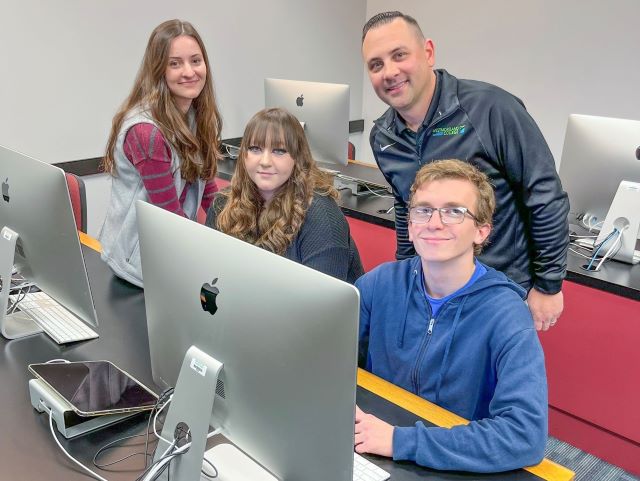 Those interested in the field of Communication Design must be talented and have a variety of artistic skills and ability and be able to work easily with clients to ensure that designs meet specifications. They want to enhance their visual and technical knowledge of graphic design, interactive design, and motion design media for entry-level workforce employment.
Communication designers, also known as visual designers or graphic designers, perform duties as designers/technicians, customer service/sales and technical support staff.
What Will I Learn?
The curriculum provides a flexible, responsive educational experience for students to build communication and creative skills, improve digital literacy, and develop interdisciplinary thinking while integrating Adobe desktop and mobile apps to design, prototype, and share their work across print, desktop, mobile devices and the web.
Communication Design, AAS
The associate degree is a project-based learning, tightly sequenced curriculum designed to enhance a student's creative, visual and technical knowledge and proficiency of graphic design, interactive design, and motion design medias. View Communication Design in the College Catalog
Graphics and Publishing, Certificate
This certificate provides students with basic skills and knowledge of design theory and industry-based technology. Students produce graphic art and visual materials through digital publishing, specialty graphics, and commercial printing and digital printing output. Courses included in this certificate may be applied toward the AAS degree. View Graphics and Publishing in the College Catalog
Web and Mobile, Certificate
This certificate focuses on web design and structure, and stresses the importance of accessibility, usability and optimization and best practices. Courses included in this certificate may be applied toward the AAS degree. View Web and Mobile in the College Catalog
What Will I Earn?
If you plan to stay in the region, there are many occupations related to this program degree and certificates. In the 10-county region* surrounding Westmoreland County Community College, the earnings for occupations range from $9.04 - $63.47 per hour, with an average hourly wage of $31.75.
It is important to remember that wages vary based on level of education, experience, job location and other factors.
Source: Data provided by Lightcast™ (https://lightcast.io/) 2023.1
* 10-county region includes Allegheny, Armstrong, Beaver, Butler, Fayette, Greene, Indiana, Lawrence, Washington and Westmoreland.
Career Opportunities
Students have the opportunity to pursue careers in interactive design, publication design, branding, advertising, motion graphics, graphic/web design, information visualization, exhibition/retail design, and environmental graphics.
About 29% of individuals are independent contractors working on creative and technical projects.