Earn While You Learn in the Baking & Pastry Apprenticeship Program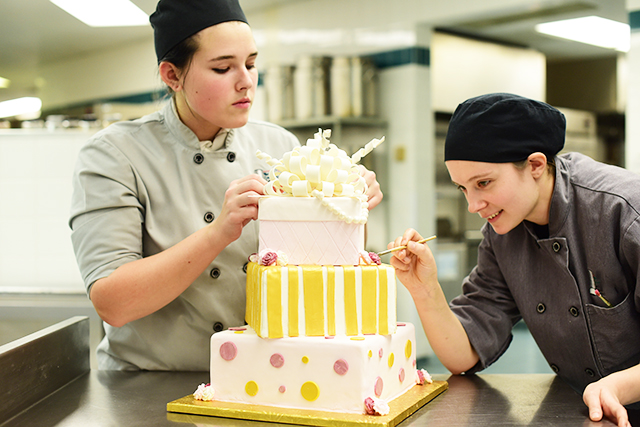 The baking and pastry apprenticeship program is accredited as Exemplary through the American Culinary Federation Education Foundation.
What Will I Learn?
This curriculum is designed to prepare students to:
Prepare yeast rolls, breads, pies, tarts, cookies, doughnuts
and frozen desserts based on local, regional and international
traditions and diversity
Prepare and decorate cakes, cookies and centerpieces
Prepare pastry items and confectionery items
Demonstrate basic food preparation skills with additional
attention to food cost
Design and prepare artistic showpieces and centerpiece
And more!
What Will I Earn?
If you plan to stay in the region, there are many occupations related to this program degree and certificates. In the 10-county region* surrounding Westmoreland County Community College, the earnings for occupations in this field range from $8.66 - $18.73 per hour, with an average hourly wage of $14.17.
It is important to remember that wages vary based on level of education, experience, job location and other factors.
Source: Data provided by Lightcast™ (https://lightcast.io/) 2023.1
* 10-county region includes Allegheny, Armstrong, Beaver, Butler, Fayette, Greene, Indiana, Lawrence, Washington and Westmoreland.
How Does It Work?
This apprenticeship program, which is sponsored by The American Culinary Federation Laurel Highlands Chapter (ACFLHC) and Westmoreland, is a cooperative program that combines 63 credits of academic course work with 4,000 hours of supervised on-the-job training in a participating restaurant, club, hotel, institution, resort or wholesale/retail bakery for an associate degree. The diploma program requires 45 credits of course work.
Classes are scheduled so that students have a sufficient block of uninterrupted time to complete their 40-hour week. Academic work can be completed as a full-time student in two years or as a part-time student over a period of three years.
At the completion of the program, students may apply for certification with the ACF.
The baking and pastry degree apprenticeship option may be completed through a partnership with Nemacolin Woodlands Resort or Seven Springs Mountain Resort as well as other approved apprenticeship sites.
Career Opportunities
Graduates of the baking and pastry program may accept positions as: pastry cook, pastry chef, executive pastry chef, baker, cake decorator, baking sales representative, institutional baker/ pastry chef, retail baker/pastry chef, wholesale baker/pastry chef, production supervisor, food batch maker, operations manager, sales representative or training specialist.
Program Outcomes and Success Measures
Baking/Pastry, AAS (Apprenticeship & Non)
Student graduation rate: 50%
Student job placement rate: 100%
Students eligible to obtain ACF certification by graduation: 5