Our President
Tuesday Stanley, Ed. D. was appointed the seventh president of Westmoreland County Community College by the college's board of trustees April 23, 2014.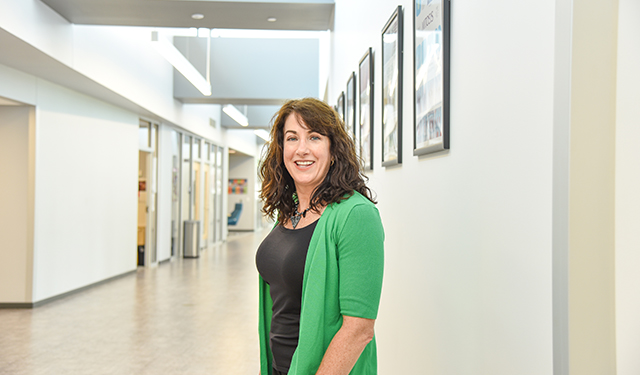 During her tenure as president, the college received a $2.25 million five-year Title III Strengthening Institutions grant by the U.S. Department of Education to expand access to online courses and create flexible online student support services. The grant supports technology infrastructure upgrades that allow automation and integration of college processes and web-based solutions for registration, financial aid and other student services.
In 2014, the college opened its 73,500-square-foot Advanced Technology Center for workforce training and education at RIDC-Westmoreland in Mount Pleasant and the Westmoreland-Latrobe center in 2015, with both facilities subsequently achieving increases in student enrollment.
Under her leadership, Westmoreland completed a $1 million addition and renovation of its Public Safety Training Center. The center provides education, training, certification and support services for the emergency response community including firefighters, police officers, emergency service workers and military personnel. Also in 2018, the college completed the construction of the Science Innovation Center, an addition to Science Hall on the Youngwood campus, and started the renovation of Founders Hall encompassing the creation of an Enrollment Center, Learning Commons and a new entrance to the facility.
Other accomplishments include reaffirmation of the college's accreditation by the Middle States Commission on Higher Education and overseeing the completion of the Investing in Our Community capital campaign that raised over $31 million to support Westmoreland's mission.
Stanley came to Westmoreland from Metropolitan Community College (MCC) in Kansas City, Missouri where she served as vice chancellor of student development, enrollment management and administrative services.
Her accomplishments during her eight-year tenure at MCC include leading an enrollment services process review; a strategic enrollment management planning and implementation process focused on student success, recruitment, course schedule management and marketing; and an information center (call center) for students. She also led efforts to move the college toward a zero-based budgeting process, opened an on-site healthcare clinic for employees and worked with several shared governance groups to improve transparency and decision-making.
Prior to joining MCC, Stanley served for six years as the associate vice chancellor of marketing and enrollment management at San Jacinto College in Pasadena, Texas and as executive director of marketing and recruitment for three years at Raritan Valley Community College in Branchburg, New Jersey.
In addition to her higher education administration experience, she has taught a college orientation course at MCC and marketing classes Raritan Valley Community College and served as a faculty member at the Snowmass Institute in the strategic enrollment management division.
She holds a doctorate of higher education management from the University of Pennsylvania, a master's degree in business administration from Lehigh University, and a bachelor's degree in advertising and communications from Purdue. She earned certification from the Harvard Graduate School of Education IEM program and the BMA School of Bank Marketing.
She serves on board of directors of the Economic Growth Connection, Westmoreland-Fayette Workforce Investment Board, Challenger Learning Center, Westmoreland Chamber of Commerce and Westmoreland Museum of American Art. She is a member of the Westmoreland County Forum for Workforce Development, Westmoreland County Comprehensive Plan Advisory Committee, American Association of Community Colleges (AACC) Commission on Institutional Infrastructure and Technology, and currently serves as chair of Pennsylvania Commission Information and Data Advisory Committee.
She began her tenure at Westmoreland July 1, 2014 succeeding Dr. Daniel J. Obara, who retired. She and her husband Royce are the parents of three children, Michael, Lauren and Christian.