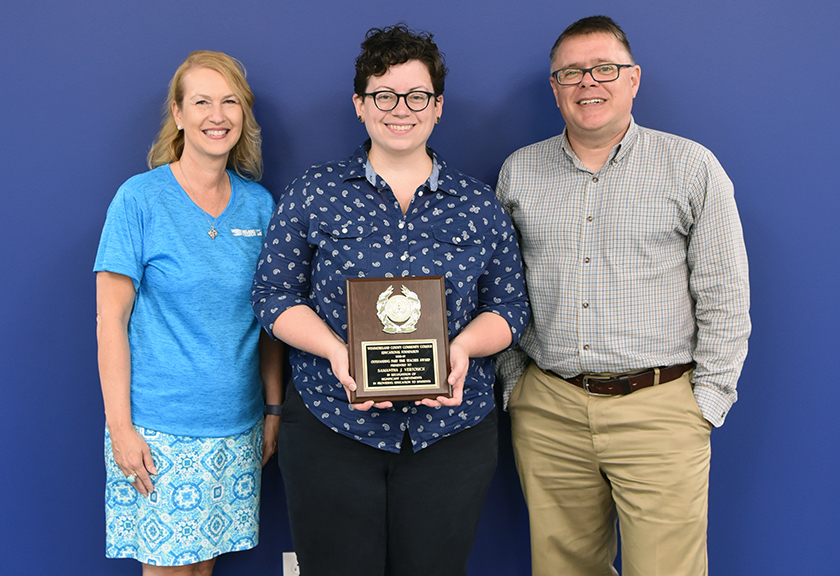 Westmoreland Presents Outstanding Part-Time Faculty Teaching Award to Samantha Vertosick
September 3, 2019
Youngwood, Pa.
Samantha Vertosick recently received the 2018-2019 Westmoreland County Community College Outstanding Part-Time Faculty Teaching Award.
Students submitted more than 25 nominations and 8 faculty responded by submitting their portfolios, which included a resume and narrative describing their best teaching experience. A committee comprised of deans, past winners and faculty reviewed the material and selected Vertosick, who has been teaching English classes at Westmoreland since 2016.
She chose to write about her first day of teaching at Westmoreland in her narrative. Just as she was to begin her first semester at the college, she lost a family member to domestic violence. Vertosick missed the first day of classes, and felt she owed her students an explanation.
"My apology included a deeper message I wanted to convey - to be aware of domestic violence, help victims if you are safe to do so and to watch out for yourself as well," Vertosick wrote in her narrative.
"Telling my students this left me feeling vulnerable, but the message also felt important to share," she wrote.
Vertosick's honesty allowed her students to feel at ease and comfortable with her, specifically in their journals, where they shared their insecurities and their own losses.
"Little did I know that my self-disclosure had opened up an entire semester of significant learning experiences," Vertosick wrote. "Students carry very heavy burdens to class every day as well, and writing can help them process their traumas."
Vertosick specializes in 20th and 21st century literature with a focus in children's literature, fantasy, film and LGBT studies. She has a Bachelor of Arts in English Literature and a Master of Arts in English and Literature from Indiana University of Pennsylvania. She is currently working towards a Ph.D. in Literature and Criticism at Indiana University of Pennsylvania.