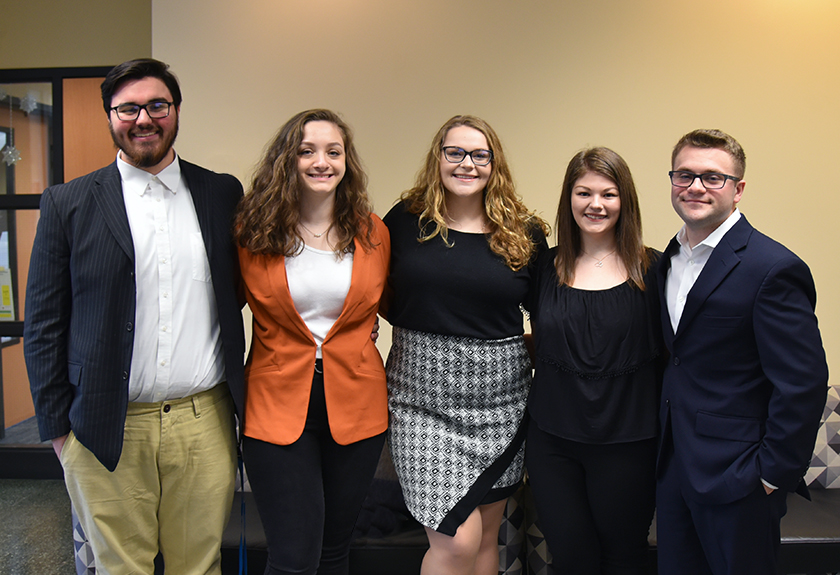 Westmoreland Honor Society Chapter Achieves 5-star Status through Service to College, Community
February 12, 2020
Youngwood, Pa.
The Westmoreland County Community College chapter of Phi Theta Kappa (PTK), a national honor society serving two-year colleges and associate degree granting institutions, recently achieved five-star status.
"It's a very prestigious honor," said Dr. Kevin Kopper, chapter advisor and assistant professor of history. "It shows we are meeting the intellectual, academic and service needs of our students."
The Alpha Upsilon Upsilon chapter has been working toward five stars since Kopper became the advisor in 2016. At the time, the chapter didn't even have one star.
"It's a significant achievement and a very rewarding process," Kopper said.
The core values of PTK are academic excellence, leadership and service. More than 100 Westmoreland students are members. To be eligible, students must have completed at least 12 credit hours and maintain a minimum cumulative grade point average of 3.5 or higher. The chapter accepts provisional members who work with PTK mentors to complete the requirements.
Last semester, the Westmoreland chapter logged more than 400 community service hours and raised more than $4,000 for charities. Service projects included cancer awareness and veterans mental health awareness.
"It's easy to get trapped into your own routines and habits and not see beyond yourself, but when you let the needs of others drive what you do, it adds so much to you that it actually makes you more successful in your endeavors," Kopper said.
The chapter is already working to keep its five-star rating for next year. Plans include alumni involvement and a college project focusing on increasing enrollment. Members plan to speak with students at local high schools about the benefits of Westmoreland and PTK.
In addition to leadership and service opportunities that can boost members' resumes, PTK offers scholarships for its members to obtain associate, bachelor's and even master's degrees, including transfer scholarships and other resources for students planning to transfer to four-year institutions.
"We just want to provide an affordable, quality education and opportunity through PTK as a pathway, not only into the workforce but going to four-year schools," Kopper said. "Some of the things we do end up being the best experience of your lives."