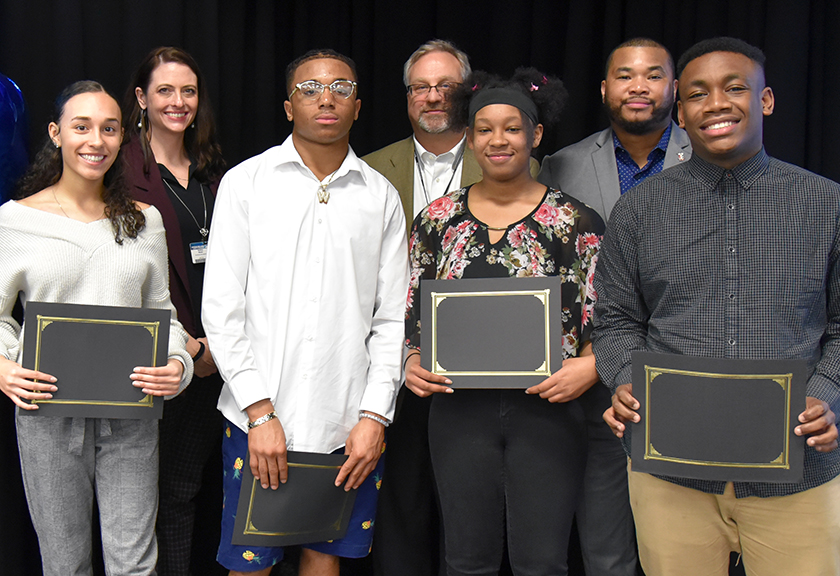 Westmoreland Holds Annual African-American High School Achievement Awards Ceremony
February 26, 2020
Youngwood, Pa.
In celebration of Black History Month, Westmoreland County Community College held an awards ceremony and reception for outstanding African-American high school students at its Youngwood campus.
Students were recognized for outstanding achievements in academics, athletics, community service and performing arts.
In attendance were high school representatives and approximately 28 students and their families representing 10 schools including Central Westmoreland Career and Technology Center, Greater Latrobe, Greensburg Salem, Hempfield, Jeannette, Kiski, Monessen, Mount Pleasant, Norwin and Valley.
Dr. Adriel Hilton, dean of students and diversity officer at Seton Hill University, was the keynote speaker for the event, which was sponsored by the Westmoreland County Community College Black Awareness Committee.
The honorees are:
Central Westmoreland Career & Technology Center and Norwin
Kiaura G. Vargo Academic (CWCTC)
Nia L. Armstrong Academic & Athletic (Norwin)
Genesis B. Nelson Academic & Performing Arts (Norwin)
Greater Latrobe
Emilee D. Mottle Academic
Zachary A. Carroll Performing Arts
Greensburg Salem
Kaley L. Lazere Academic
Shaleena M. Garner Academic
Jalen Page Athletic
Zachary M. Galdo Community Service
Wade L. Spruill-McCoy Performing Arts
Hempfield Area
Makayla C. Harr Academic
Alexis T. Tshibaka Community Service
Banner Reed Performing Arts
Jeannette
Jada Bass Academic & Performing Arts
Imani Sanders Athletic
Daizha M. Kozinko Community Service
Kiski Area
Mason R. Clayton Athletic & Performing
Monessen
Daija J. Grogan Academic
Dawayne M. Howell Athletic
Rayna S. Winston Community Service
Mt. Pleasant
Niesha J. Patton Academic
Jasmine C. Nicklow Community Service
Elijah M. Wilson Performing Arts
Valley
Hanna M. Clarke Academic
Vaun L. Ross Athletic
Ayame J. Hayden Community Service
Adam J. Richardson Performing Arts