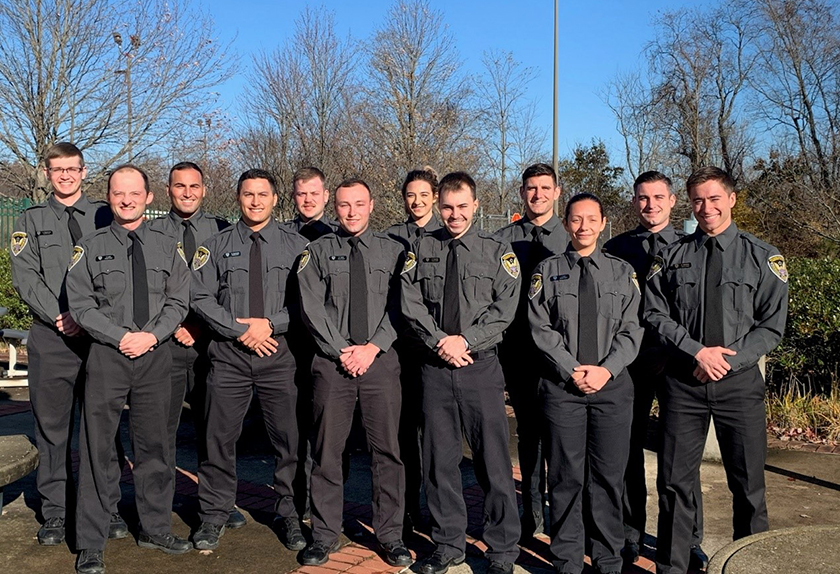 Westmoreland County Community College Graduates 12 Police Academy Cadets
November 23, 2021
Youngwood, Pa.
Westmoreland County Community College celebrated the graduation of 12 police academy cadets from its Municipal Police Officers' Training Academy during a ceremony Tuesday, November 23, 2021.
The graduates from Class 56 included Nicco Alessandro of North Huntingdon; Marko Bakovic of Stockholm, New Jersey; Keith Chalmers of North Huntingdon; Noah Elder of Port Vue; Stefano Faiello of Glassport; Seth Haggerty of Connellsville; Jenna Kerr of Pittsburgh; Alexander Lydic of Greensburg; Ronald Penn of Pittston; Anthony Regopoulos of Williamsport; Robert Ruzewski of Somerset; Cole Stinebiser of Irwin; and Mattie White of Greensburg.
Cole A. Stinebiser earned special recognition for receiving the Academic Excellence and Driving Proficiency awards. The Firearms Proficiency award went to Ronald L. Penn and the President's Leadership Award went to Nicco J. Alessandro.
The Westmoreland County Community College Municipal Police Officers' Training Academy offers both a part-time and full-time academy. The 930-hour program trains students to become police officers in Pennsylvania cities, boroughs and townships. Cadets also become Emergency First Responders and certified in CPR, Incident Command, the National Incident Management System and tactical skills. Westmoreland's Police Academy is taught by professional instructors including working officers, investigators and leaders from throughout the southwestern Pennsylvania region. All are certified in their expertise by the Municipal Police Officers' Education and Training Commission.
Westmoreland County Community College is recruiting applicants for the 2022 Part-time Municipal Police Academy, which starts February 5, 2022 and for the 2022 Full-time Municipal Police Academy beginning June 4. To learn more, visit www.westmoreland.edu/policeacademy or call 724.925.4112.