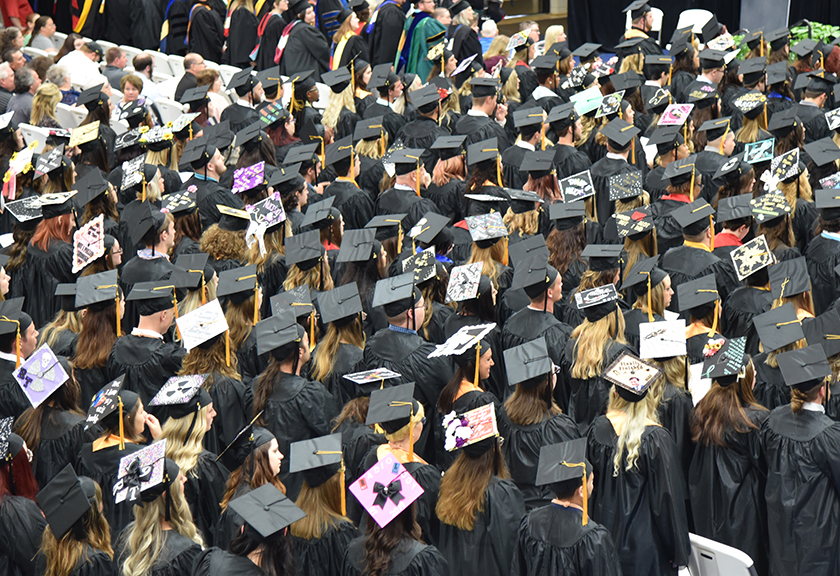 Westmoreland County Community College 2019 Commencement
May 10, 2019
Youngwood, Pa.
Westmoreland County Community College conferred degrees, diplomas and certificates to 706 graduates at its 48th annual commencement ceremony held Thursday, May 9 at the Youngwood campus.
The ceremony encompassed graduates who completed program requirements during the summer 2018, fall 2018 and spring 2019 semesters.
Westmoreland President Tuesday Stanley acknowledged several graduates by sharing their stories and highlighting their accomplishments, including:
Abigail Welch of Mt. Pleasant, an Office Technology major, who has not only been an excellent student but also an incredible addition to the college. While taking classes toward her degree, Abby was a work-study in the College Learning Center and later accepted a part-time position with the TRIO team. Soon she would move to Student Services where she worked with the ACT 101 team. Recently, she joined the College Learning Center in a full-time position.
Luke Yandrick of Latrobe, a Welding Engineering Technology major, who is graduating with an incredible portfolio. Prior to attending Westmoreland, he attended a large university which he felt didn't fit him. As he began working on his Welding degree, his talent blossomed. Luke's work is currently on display at the Westmoreland County Chamber of Commerce.
Emmanuel "Manny" Lebbie, of Greensburg, whose story is one of challenges, second chances and success. Growing up in the West African nation of Sierra Leone, as a toddler Manny's mother went missing in a civil war. He went to live with his grandmother and then he moved in with his aunt and uncle. As a teen in Philadelphia living with his father and stepmother, he was getting in fights, stealing and at one point, living in a homeless shelter. He moved to live in the Adelphoi community. At Westmoreland, Manny found his calling - social work. In a recent article in the Tribune Review, Manny expressed "the more I went to school, the more I realized that what I wanted to do is to empower kids, give them the hope people have given me."
President Stanley also recognized eight Ligonier Valley High School seniors who earned an associate of arts degree through Westmoreland's College Now program prior their high school graduation: Nina Christopher, Abigail Cmar, Sydney Damon, Abigail Frey, Luca Rashilla, Jonah Sonnabend, Lindsey Stormer and Amanda Stuck. These students may transfer their associate degrees to four-year universities and enter with junior status having completed two years of the bachelor's degree requirements at Westmoreland.
During commencement, Stanley presented the 2019 Distinguished Alumnus Award to Clyde Parry of Coral Springs, Florida, a 1985 Westmoreland Law Enforcement and Police Science graduate who is the Chief of Police for the Coral Springs Police Department.
The Coral Springs Police Department is widely thought of as the department that heroically responded to the Marjory Stoneman Douglas School shooting in Parkland, Florida and saved the lives of 17 wounded children.
The commencement ceremony also included a keynote address by James F. Bauerle, director of Legal and Business Services at Keevican, Weiss and Bauerle.