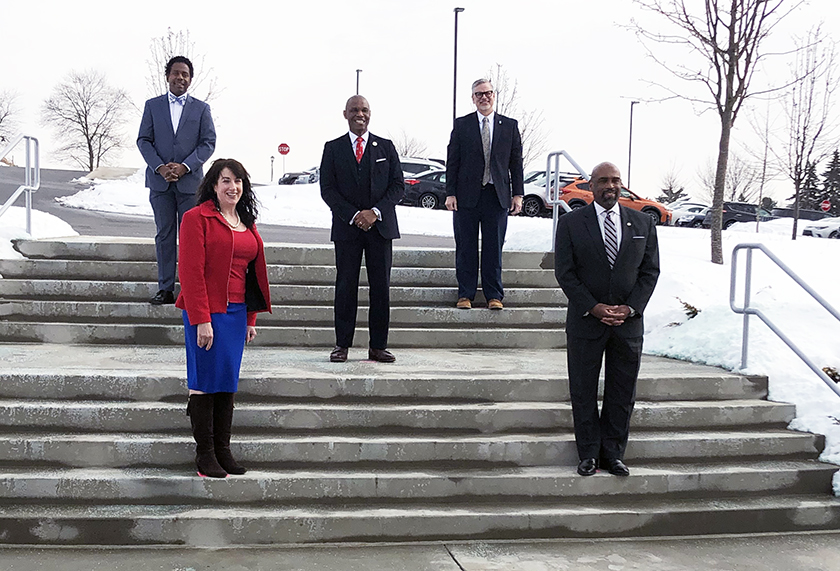 RMU, Four Community Colleges Sign Sweeping Dual Enrollment Agreement
February 11, 2021
Robert Morris University and four western Pennsylvania community colleges have signed a sweeping agreement to allow community college students to be admitted and enroll simultaneously at RMU.
This new initiative, called RMU Gateway, will make earning a four-year college degree more affordable and accessible to students living in the Pittsburgh region. The partnership with RMU includes the Community College of Allegheny County, the Community College of Beaver County, Butler County Community College, and Westmoreland County Community College. RMU Gateway will be open for students starting with the Fall 2021 semester.
The presidents of the five institutions announced this groundbreaking partnership during an event this afternoon at RMU.
"RMU Gateway is the next chapter in the university's history of offering multiple pathways for students to earn a college degree and launch a great career," said RMU President Chris Howard. "This not only puts college within reach for more and more students, but it also bolsters our commitment to ensuring that western Pennsylvania has the highly skilled professional workforce it needs to sustain economic growth."
The RMU Gateway initiative will allow a community college student to be admitted directly to Robert Morris and take up to 12 credits at RMU at the same time that they earn an associate degree from their community college. Tuition for those credits will be equal to what students pay at the community college, resulting in a significant cost savings.
Students enrolled in the RMU Gateway program will also be eligible to live in university housing and purchase the university's meal plan while they complete their associate degree. After a student has completed their associate degree, they will transfer to RMU, where they will be eligible for annual scholarships ranging from $3,000 to $12,000 per year, depending on their GPA. That is in addition to any other financial aid for which they may qualify.
"Through our shared commitment to providing students with multiple pathways to achieve their academic and career goals, the Community College of Allegheny County and Robert Morris University are creating new opportunities for our students — ones that, as graduates, will give them the knowledge and skills they need to succeed in an increasingly competitive and complex global workplace," said CCAC President Quintin Bullock.
Students who are dual admitted to Robert Morris through the RMU Gateway program can pursue many of the university's undergraduate degree programs, and the university will accept for transfer all credits that students earn as part of their associate degree at a community college through program-to-program articulations. This includes credits earned through lifelong learning programs, military coursework, professional portfolios, prior learning assessments, and related programs.
"CCBC and RMU have enjoyed a longstanding partnership, and this dual-enrollment agreement is a natural evolution of ensuring the success of our students," said CCBC President Roger Davis. "Creating more opportunity and more flexibility will further enable Pittsburgh-area students to succeed in their desired careers quickly and affordably. We are excited and optimistic about this new partnership."
To support RMU Gateway students and ensure that every transfer student at Robert Morris flourishes, the university plans to launch the RMU Transfer Success Center. This will be a one-stop shop for students to access all university services, including academic advising and financial aid. Each transfer student will be assigned to a transfer success counselor.
"Geographically, Robert Morris University is perfectly positioned to serve each of our institutions, and its intention to create a Transfer Success Center speaks to its commitment to ensure that our students have a great experience and are well-prepared for their careers," said Nicholas Neupauer, president of Butler County Community College. "We at Butler County Community College are excited to be part of this historic agreement."
As of the Fall 2020 semester, 265 students who transferred from the four community colleges were enrolled at RMU.
"Our students at Westmoreland County Community College are at the center of everything we do. We welcome the opportunity that RMU Gateway will provide our students to complete their associate degree while enjoying the benefits of student life on the RMU campus," said Tuesday Stanley, president of Westmoreland County Community College. "Our students' ability to transfer their associate degree credits to earn a bachelor's degree at Robert Morris is the perfect combination, and we are pleased to join our fellow community colleges in this program."
To learn more about RMU Gateway, go to rmu.edu/gateway.