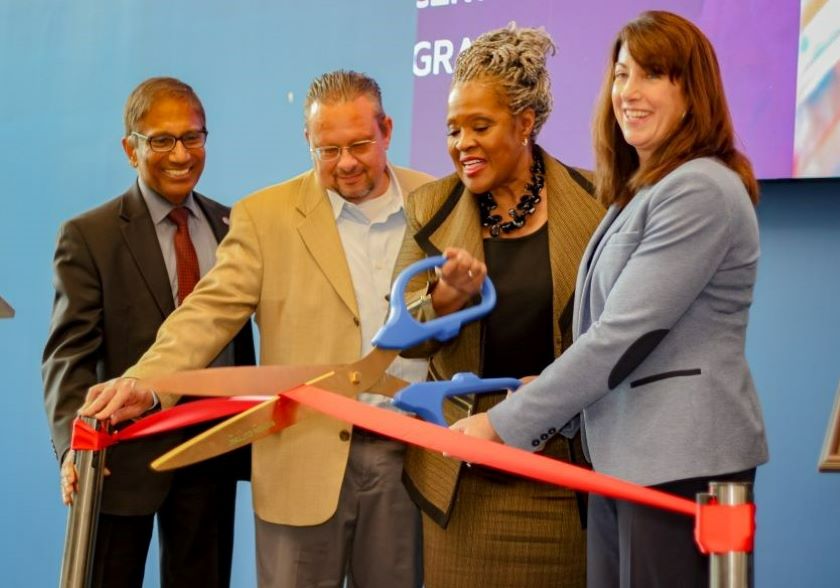 Carlow University partners with Westmoreland County Community College to further meet workforce needs
October 6, 2022
Carlow University and Westmoreland County Community College, in
partnership with the Westmoreland County Chamber of Commerce, held a ribbon cutting ceremony to mark a continuing partnership between the schools to increase opportunities to meet the future workforce needs of the county and allow community college students to seamlessly transfer to Carlow.
Carlow and Westmoreland have a long-standing history dating back to 2005 when the institutions first signed an articulation agreement for the Early Childhood Education program allowing Westmoreland students to transfer their credits to Carlow seamlessly and enter with junior status.
With a new dual agreement in place, students can enroll at Westmoreland and Carlow simultaneously allowing them to save up to $7,740 by taking 12 credits at Carlow while enrolled at Westmoreland. The agreement allows students to be enrolled at the two institutions and complete their associate degree through Westmoreland and easily transfer to Carlow in pursuit of a bachelor's degree.
"Westmoreland County Community College has assisted Westmoreland and surrounding counties in producing a highly skilled workforce," said Dr. Tuesday Stanley, Westmoreland president. "In high-demand and family sustaining careers like healthcare, our students will be able to continue their education at Carlow while employed in our local hospitals and healthcare facilities."
The aim of the new partnership is to broaden education accessibility, something core to the values of both Carlow University and Westmoreland County Community College.
"It's vital that we continue to respond to the needs of the modern student in a cost-effective manner," said Dr. Kathy W. Humphrey, president of Carlow University. "Through this pathway, we're able to smooth the transition between achieving an associate's and bachelor's degree. This partnership is just the latest in a long line of cherished partnerships between Carlow University and Westmoreland County Community College."
Thanks to this agreement, Westmoreland County Community College students will be able to take advantage of a physical Carlow University location on the Westmoreland campus. This satellite location will allow students a direct pathway to a Carlow bachelor's degree without having to travel to Carlow's Oakland campus.
As Westmoreland has celebrated 50 years in the community in 2020, Carlow has been an active member of the Westmoreland community for 30 years, with both institutions bringing a combined 80 years of experience of offering higher education and workforce development opportunities to the county.
Carlow University at Westmoreland County Community College is located in the Business and Industry Center at the Youngwood Campus.