Begin a Healthcare Career as a Radiologic Technologist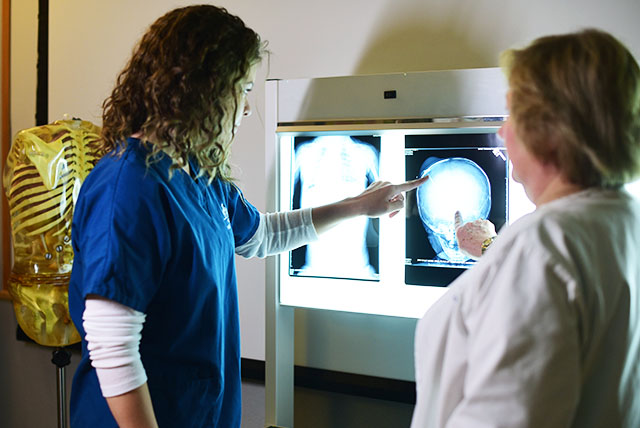 Radiologic technologists, also known as radiographers, perform diagnostic imaging examinations, such as X-rays, on patients.
The Westmoreland Radiology Technology program offers the academic preparation and clinical training needed for a career as a radiologic technologist (radiographer). While many radiographers provide services in a hospital setting, others provide services in stand-alone medical imaging centers, mobile radiography providers and private physician offices.
Radiography is the gateway to most other specialized imaging modalities. With additional education through either employer-based training or formal education, radiographers can progress to careers in Computed Tomograph (CT), Magnetic Resonance Imaging (MRI), Angiography, Mammography and Quality Management.
Students who complete the radiology technology program satisfactorily are eligible to apply to take the American Registry of Radiologic Technologists (ARRT) national certification exam. View Radiology Technology in the College Catalog
Career Opportunities
Students completing this program will be qualified to enter the work force as an entry level radiographer. Radiographers may find employment opportunities with hospitals, stand-alone medical imaging centers, mobile imaging providers and private practice physicians.
Basic Application Process - Health Professions
Complete and submit an Application for Admission to
the college
Download the Radiology Technology Checklist and consult the College Catalog for details on additional requirements
Complete and submit a Health Professions Programs Application
Submit official transcript from all secondary schools attended, graduate equivalency degree (GED) programs and any other formal educational program beyond high school
Application Deadline: January 12 prior to fall start
Acceptance Notification: Mid-March