Get Skills for a New Career in One Semester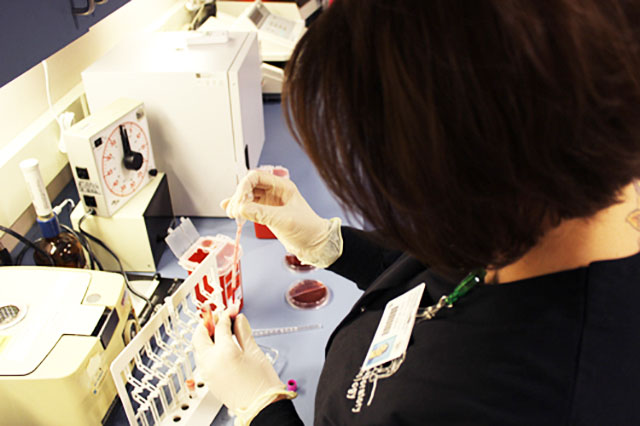 Whether you have been a patient or a blood donor, you have encountered a phlebotomist. Phlebotomists draw blood for tests, transfusions, research or blood donations. Specimen processors work with specimen samples such as blood, bacteria and body tissue in conjunction with other health care workers.
What Will I Learn?
The Westmoreland program offers students two options; first, a student can prepare for a career as a phlebotomist in a hospital or non-acute healthcare setting (ex. clinic, lab, skilled nursing facility); second, students can prepare to function as a laboratory specimen processor or laboratory aide in a clinical laboratory setting.
Students with previous credit or noncredit phlebotomy certificates and documented two years of clinical experience may apply to test out of the phlebotomy specific courses. View Phlebotomy/Specimen Processing in the College Catalog
What Will I Earn?
If you plan to stay in the region, there are many occupations related to this program degree and certificates. In the 10-county region* surrounding Westmoreland County Community College, the earnings for occupations in this field range from $14.72 - $22.34 per hour, with an average hourly wage of $18.10.
It is important to remember that wages vary based on level of education, experience, job location and other factors.
Source: Data provided by Lightcast™ (https://lightcast.io/) 2023.1
* 10-county region includes Allegheny, Armstrong, Beaver, Butler, Fayette, Greene, Indiana, Lawrence, Washington and Westmoreland.
Career Opportunities
Phlebotomists typically work at hospitals, commercial laboratories, physician's offices, blood banks, pharmaceutical firms, home health agencies, research institutions and public health clinics.
In addition to performing phlebotomy, specimen processors collect, evaluate and process various laboratory samples for hospital laboratories, physician office groups, and free-standing surgical facilities.
Basic Application Process - Health Professions
Frequently Asked Questions