Fall 2021 Student Resources
The Fall semester will start soon and we know you have questions. All of our services are still available to help you be successful. Check out the list of things to know to help you be Ambitious.
Limited Time!
The Enrollment Center will be open to help students with several services including picking up a degree, diploma or certificate, or getting a Westmoreland ID. If you are planning to pick up your degree, diploma or certificate, you must have received an email confirmation from the college to ensure the documents are ready. If you are unsure, please contact us at 724-925-4000.
Our limited hours are as follows:
The Enrollment Center is open in August Monday through Friday from 8 a.m. - 5 p.m. Starting September 1, the Enrollment Center will be open Monday through Thursday 8 a.m. - 5 p.m. and Friday 8 a.m. - 2 p.m. and 4-5 p.m.
Commonly asked questions:
Are the computers available for use in the Student Achievement Center? Yes. The computer lab is open from 7:45 am - 5 pm Monday through Friday. Help Desk will be staffed at 8 am.
How will you message me about changes or updates during the semester? We will message your college email account.
My class has added a book. How do I order the book? It's super easy. Just log into our online book store and you can order your book to be delivered directly to your home.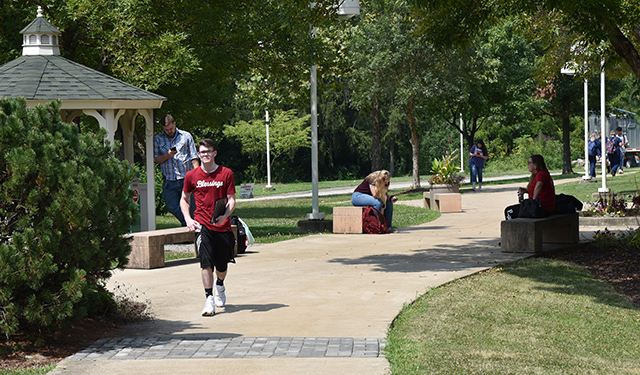 How do I find clubs and other groups to join without being on campus? Check out the Student Life section of our website to find the best fit for you. Please contact our Student Life Coordinator, Rob Velella for additional information - velellar@westmoreland.edu.
When on campus for class, is there any place to eat? Up and Atom cafe will be open during the fall semester, starting on August 16 - Monday through Thursday from 7:30a.m. - 3:00p.m. The cafe will be closed every Friday. The cafe is located in the Science Innovation Center, formerly Science Hall.
Westly's Cafe is located in the Student Achievement Center and will be open as follows: August 2 through August 12 - Monday-Thursday 8:00a.m. - 2:00p.m. & closed Fridays
Starting August 16 the hours will be Monday - Thursday 7:30a.m. - 4:00p.m. and Friday 8:00 a.m. - 2:00 p.m.
The main cafeteria in the Student Achievement Center, known as The Den, will not serve food during the Fall 2021 semester.
How do I apply for CARES Act funds? If you believe you are eligible for CARES Act funding, please check out the details on our COVID-19 Emergency Aid page. If you feel you are eligible, please complete the form.
What are the hours and services available at the educational centers? All educational services at each center are available remotely. Several centers have special hours. Please check the website for details.
When is the College Store open this semester? The College Store will be Monday, Tuesday and Thursdays 8a- 5p and Wednesdays 8a-6p . You can purchase all your Westmoreland gear at the College Store.