Reach for an Exciting Career in Robotics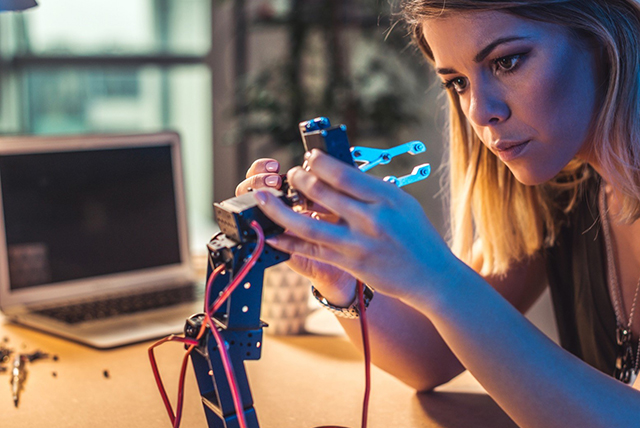 The MEEP Robotics Technician certificate program includes three semesters of hands-on skills instruction at our Advanced Technology Center and a capstone internship opportunity with a local manufacturer.
The college is collaborating with the Massachusetts Institute of Technology (MIT) and Advanced Robotics for Manufacturing (ARM) to offer this 15-month program with tuition assistance to students through a grant from the Office of Naval Research.
Students completing this program will gain a working knowledge of production automation systems, including installation, programming, troubleshooting, and repair of Programmable Logic Control (PLC) systems, motor controls, electro-pneumatic/hydraulic systems, and robotic equipment.
Career Opportunities
Completing students will be offered a capstone internship at a local manufacturer to gain additional real-world industry experience while networking with industry professionals.
Students completing applicable coursework and the one-semester internship will gain the knowledge and skills necessary to design, construct, analyze and repair complex automated systems, and will be able to apply for positions such as industrial technician, process specialist and/or automation technician.
How to Apply
Fall 2019 classes begin on August 15th with limited seating available. Individuals interested in the program are encouraged to apply through Westmoreland's online college application.
Additional funding for tuition and more is available to students who participate in the MEEP Robotics Technician program during the 2019-2020 academic year.
For more information about the program or funding available to students, contact Adam Margovic, Advanced Manufacturing and Robotics program coordinator, at 724-925-8478 or margovica@westmoreland.edu.