Academic, Lab and Clinical Training in Diagnostic Medical Sonography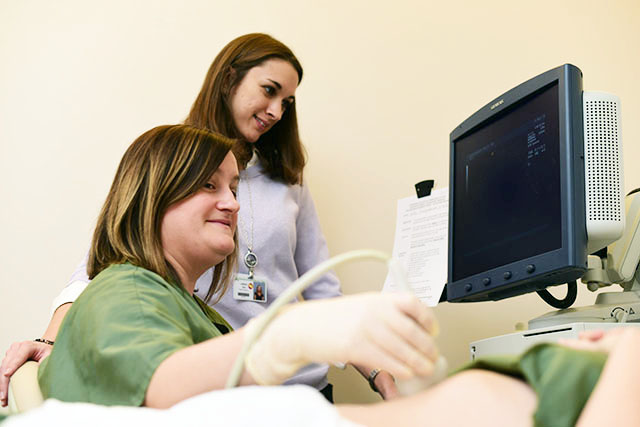 Diagnostic medical sonographers operate special imaging equipment to create images or to conduct tests that help physicians assess and diagnose medical conditions. Some technologists assist physicians and surgeons during surgical procedures.
What Will I Learn?
The Diagnostic Medical Sonography program at Westmoreland offers the academic preparation, laboratory and clinical training for a career as a diagnostic medical sonographer. This curriculum provides students with the entry-level skills needed to use diagnostic ultrasound equipment under the supervision of a physician for the use and interpretation of ultrasound procedures.
Students who successfully complete all requirements of the program are eligible to apply to take the American Registry in Diagnostic Medical Sonography Exam. View Diagnostic Medical Sonography in the College Catalog
Basic Application Process - Health Professions
Complete and submit an Application for Admission to
the college
Download the Diagnostic Medical Sonography Application Checklist for details on additional requirements
Complete and submit a Health Professions Programs Application
You will be notified via your MyWestmoreland email if you are eligible to take the National League for Nursing Pre-Admission Examination (NLN-PAX), which is the next step in the evaluation process. Study materials are optional and available for purchase.
Submit official transcript from all secondary schools attended, graduate equivalency degree (GED) programs and any other formal educational program beyond high school
Application Deadline: January 12 prior to fall start
Acceptance Notification: Mid-March
Frequently Asked Questions
Attrition, Job placement and Credential Success Rate Outcomes
May 2017

Retention
Number of students admitted - 17
Number graduating - 12
Retention Rate - 71%
Job Placement
Number of graduates - 12
Number of graduates employed - 11
Job Placement Rate - 92%
Credential Success Rates
Number earning SPI examination - 12
Number taking SPI examination - 12
SPI examination success rate - 100%
Number of students taking ABD credential - 12
Number earning ABD credential - 10
ABD credential success rate - 83%

Number of students taking OB-GYN credential - 5
Number earning OB-GYN credential - 5
OB-GYN credential success rate - 100%
May 2018
Retention
Number of students admitted - 20
Number graduating - 11
Retention Rate - 55%
Job Placement
Number of graduates - 11
Number of graduates employed - 11
Job Placement Rate - 100%
Credential Success Rates
Number taking SPI examination - 11
Number earning SPI examination -11
SPI examination success rate - 100%
Number of students taking ABD credential - 9
Number earning ABD credential - 9
ABD credential success rate - 100%

Number of students taking OB-GYN credential - 4
Number earning OB-GYN credential - 3
OB-GYN credential success rate - 75%