Earn Early Childhood Education Course Credits or Acquire Training Hours
Early Childhood Professional Development courses are offered for early childhood educators currently working in childcare through the Southwest Regional Key of the PA Office of Child Development. Each three-hour workshop qualifies for three hours of the Pennsylvania DHS training requirement. You may take one course or the entire series for three hours of college credit.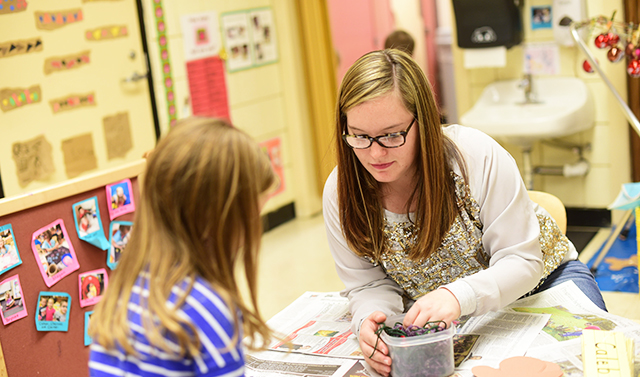 The cost of each individual course is $14 which is paid at the time of registration on the PD Registry.
The cost of three college credits is $210. If payment is not made at the time of registration, you may be withdrawn from the course. It is highly recommended to apply for tuition assistance from the Rising STARS Tuition Assistance Program and T.E.A.C.H. offered by the PA Key, if you qualify. More information can be found at www.pakeys.org.
How to Register
Decide carefully whether to register for an entire course series or individual courses. It is not possible to take the three-credit course series after week two.
To enroll in any of the courses for three college credits:
Apply for tuition assistance (see above)
The three college credit courses are NOT listed on the PD Registry. Apply to Westmoreland if you have not taken a credit class before.
Select Non-Degree Seeking as your major.
Once registered, submit payment online at the MyWestmoreland portal or by check to Westmoreland County Community College, Accounts Receivable, 145 Pavilion Lane, Youngwood, PA 15697 (Amount due depends upon tuition assistance from Rising Stars Tuition Assistance program and T.E.A.C.H. if eligible.)
To take an individual ECE professional development course for required Pennsylvania DHS training hours:
Registration is done directly through www.pakeys.org
Create an account on the PD Registry, login, then go to "Training Calendar," enter "WCCC" in the course title box, then click "Filter Courses." All Westmoreland courses will appear; choose your course.
Register and pay $14 per course directly on the website.
Important information
All participants must have a registry ID number prior to attending courses.
All participants taking courses for three college credits must register through Westmoreland.
Act 48 credit is available. Forms can be obtained from the instructor.
To transfer credits to a 4-year institution, contact your institution of interest for approval. All credits can be applied to an AAS degree at Westmoreland.
For more information, contact Vicki Hricik at hricikv@westmoreland.edu.
These are Needs-Based Funded courses through the PA Office of Child Development/Southwest Regional Key. All courses qualify to meet the required six hours of training per year as mandated by DHS regulations. For additional information regarding professional development, refer to www.pakeys.org.
Child Development Associate (CDA) Series & Renewal
Westmoreland is offering a series of credit-based courses that will fulfill the educational training requirements for the infant-toddler, preschool or renewal CDA credentials. The additional work experience, portfolio and professional requirements required by the CDA Council must be completed independently by the candidates. Application instructions
Based on the CDA pursued, students may choose from courses that will be offered online.
For more information, contact Dr. Brandi Weekley at weekleyb@westmoreland.edu.